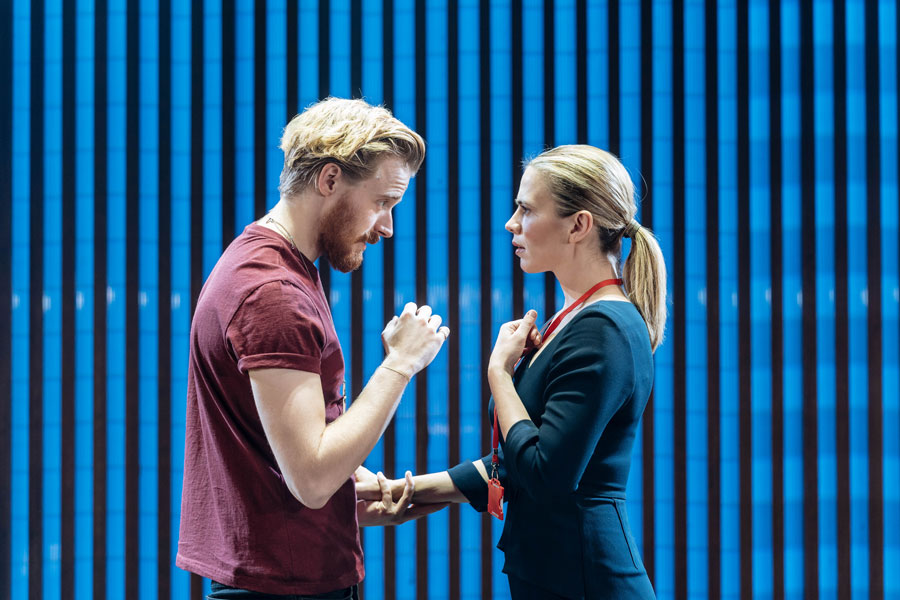 My pal went into the Donmar's Measure for Measure expecting a fight. She'd read that Josie Rourke's production presents the cut-down text twice. The first, set at the time of Shakespeare's 1604 premiere, where deputy governor Angelo attempts to coerce soon-to-be-nun Isabella into sex to save her brother's life. The second, set today – same plot but with a female minister harassing a young man.
Pal was having none of it. To suggest that power trumps gender is nonsense, she fumed. Women with authority don't exploit it in that way. What would the switch prove? Fight fight fight!
Guess what: it doesn't play that way. The first act is streamlined – the second is incendiary. Repetition adds a layer of complexity and strips away a layer of skin. It's impossible not to flash on the recent supreme court hearings, when Christine Blasey Ford held tight to composure, modesty and sweet reason – and still lost ground to ranting male grandstanding. Rourke's Measure demonstrates that there seems to be no version of female sexuality – of female identity – that will protect a woman in the public realm.
We should all be screaming
'Who will believe thee, Isabel?' Angelo's line is one we're still living with. In 1604, Jack Lowden's Angelo keeps the Provost in the room when he lays out his sleazeball terms to Isabella (Hayley Atwell). Why? Because he can. Because a guy in power can allow a witness to his sexual coercion – a senior member of the judicial system at that – and casually disempower him. Atwell repeatedly looks round at Adam McNamara's Provost, but he avoids her eye. He can't speak, let alone speak up, and when Angelo leaves the room, trots after like an obedient terrier.
The truth emerges in Shakespeare's last scene: but justice? Barely. The duke (Nicholas Burns), who has pushed events to horrible extremes, for dubious motives, offers Isabella marriage, even as the extent of his manipulation becomes clear. Atwell, in her mushroomy cap and gown, screams. Shakespeare doesn't give her any lines, and, honestly, what else can she do? The scream lands briefly like a blessing: some of us have been waiting for an outraged scream for years. We should all be fucking screaming. But Rourke lets it hang in the air for just a second before we're propelled into the present. Because catharsis is a luxury we don't have, not now.
From the first moment we see 2018's Atwell in her managerial garb – severe black with complicated sleeves – we realise the dynamic of the story, theoretically identical, will be utterly upended. When Jacobean Angelo is asked to stand in for the duke, ahead of the more experienced Escalus, Lowden can't suppress a smirk. He fingers the chain of office with complacent pleasure. So young, and so entitled. Atwell's modern figure looks worried: 'Let there be some more test made of my metal' is a genuine concern. Female self-doubt is culturally hardwired. She has surely worked harder than all the men around her to get here (the bar, you suspect, is set low), she hefts a pile of files and folders in front of her like body armour. Still the Provost huffs when she asks him to do something.
Payback is nasty
Authority is difficult, sex is all peril: the combination is toxic for all concerned. Modern Isabella fancies the vulnerable Angelo (here reimagined as a member of a cleansing Christian movement) and it occurs to her that she can do what blokes have done for 400 years. It's just as abhorrent as the Jacobean manoeuvre – Isabella even offers a derisive flicker of little-lady waterworks, to demonstrate how she'll rebut any comeback. She thinks she's safe with the crimson lanyard of high office around her neck. She isn't.
For this Isabella, payback is nasty. Everyone's on a mobile throughout the modern scenes, and a cameraphone must have been lurking as Isabella screwed the man she took for Angelo – in reality, her vengeful ex. Revenge porn turns the tables: it's not just Isabella's deception that is revealed (and shared – ping! – with absolutely everyone in an instant) but the shame of being a sexual woman, a woman who thought she had control. Jacobean Angelo is humbled; modern Isabella is utterly humiliated.
As Rourke identifies, masculinity is just as firmly policed, just as fucked. Aberrant women are punished with shame, men with ridicule. The modern Angelo's sexuality is considered suspect – Claudio doesn't quite get why his brother can't just fuck Isabella and spring him from prison. Lowden arrives at the final showdown high on indignation, chanting for justice and waving a banner – but as all is revealed, the onlookers giggle when he describes being harassed by a woman. What kind of man admits to vulnerability?
Look too at the differing treatments of the deputy's still-hurting ex. In 1604, Mariana (Helena Wilson) hacks at an apple, then turns the blade on her own thigh. In 2018, Frederick (Ben Allen) sketches and cries, remembering Isabella while listening to 'their' song. The audience sits silent at the self-harming woman, but snickers at a weeping bloke. I don't think the production invites that response – that's us doing that.
Rourke has always been good at nailing supporting characters in Shakespeare – it's what made her Much Ado About Nothing feel so true. Here, most actors offer two distinct versions of the same characters in their two worlds. Sule Rimi's terrific Claudio is a dignified victim in the first act, but in the second a bro affronted at having his privilege checked. After his arrest, he jokes with the Provost in #lads complicity. Stray lines retained in the condensed text that sound slightly odd in 1604 become scalpel precise in 2018. As when Escalus mentions that he knew Claudio's father – of course he did – or when he invites the Provost to dinner, in the immemorial tone of chaps who carve up the world over steak and claret.
The sheer cumulative intelligence of this production gives me goosebumps. And the very end is sober as can be. Atwell returns to her convent garb. She doesn't scream – instead, with bitter poise she addresses not Angelo but the Duke, the patriarchy made smug and suffocating flesh. Yeah, I'd like a sense of release, I'd like a scream – we all would. When we will get one?
Top: Jack Lowden and Hayley Atwell. Photo: Manuel Harlan.
Follow David on Twitter: @mrdavidjays