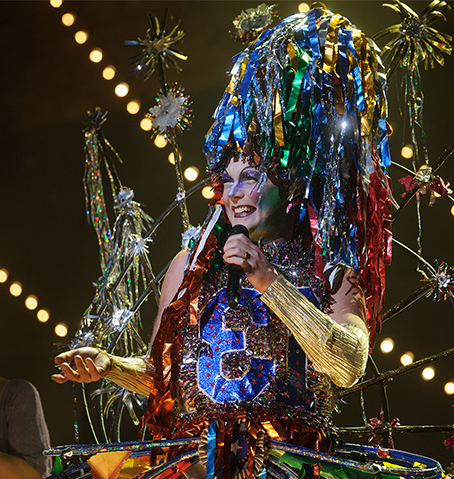 I'm always here for a disposable rush from a bit of shiny trash. But if there's a message to the first part of Taylor Mac's sock-knocking extravaganza A 24-Decade History of Popular Music – an epic sliver of an epic slab – it's that trash can be treasure if you're looking at it right.
Mac's piece has previously been performed over a continuous 24 hours. Each hour is dedicated to a decade of American popular song from 1776 to the present, forming an alt history of that contested country and the current absolute state of the nation, seen through a drag queen's furious, mischievous eyes. At the Barbican, closing the LIFT Festival, we were given the first three decades, inching from revolutionary fervour into the early 19th century.
There's a band, a guest choir, a concentration of knitters beside the stage. The show is has a hand-made wit – with costumes by best-name-ever Machine Dazzle (who also appears intermittently and changes into a special frock for the curtain call, because wouldn't you?). The costumes may be spendier than first appears (Dolly Parton, always: 'It costs a lot of money to look this cheap'), but they seem lovingly magpied from unconsidered scraps. Mac first appears lavishly betinselled – towering headdress, wide hooped skirt, wings and things, all draped with the multicoloured tack – twisty tinsel, strips of foil – that adds sparkle to a festive pine and bling to any school play.
Tinsel ain't what it used to be. Specifically, it isn't made of metal these days, unlike the thinly beaten silver of its origins in 16th-century Germany (Nuremberg is usually given the credit, though the name comes from estincele, the old French for 'sparkle'), or the cheaper tin, copper and other materials that were used later as the decorations became more widespread. Nowadays they're mostly plastic, of course.
A moment of movement
Tinsel changes, just as meanings change. From precious swag to something too cheap to mention: but to have it swaying in the sumptuous lights, adorning the show's unmissable star, means that we look again. The songs Mac selects were disposable too – often written for a moment, forgotten in its aftermath. The opening decade, inhabiting the immediate flush of revolutionary success, reveals marches, satires, songs from the losing side. The only one you're likely to recognise is Black is the Colour of My True Love's Hair – another number that would later take on different resonance in Nina Simone's melancholy murmur. America, Mac tells us, was born in dissent, longing and home-made fashion (hence the knitters, and the epic's entire aesthetic).
These tunes were printed as broadsides, hollered from the stage, bawled in the tavern and then forgotten. But, guess what, the mayfly urgency of ephemera can be more useful than the marble-carved pronouncements of the founding fathers (sorry, Hamilton). Unleashed in the moment, apparently off the cuff, each song represents a spark of time, a moment of potential movement. Things can change in a moment, Mac tells us – perhaps any history of America is a utopian project at heart. The central decade is about early feminism – slut-shaming ditties and lovelorn laments are upturned in defiance and solidarity. In a shimmering moment, Mac even rewrites Eden's apple-munching loss of innocence, making us each crunch into a red apple and reframe the misogyny that Genesis hardwired into western culture. (The apples, Mac acknowledges, are out-of-season mealy – even metaphor has its limits.)
Sifting the garbage to see what shines
Queer history is all about sifting the garbage to see what shines. Minor characters, forgotten texts, lost songs (it feels right that Le Gateau Chocolat, fresh from unearthing banned Berlin cabaret songs, makes a lamé-luminous guest appearance). Tinselly trash can dominate the stage; splinters of personal history, court records, curses, can reveal a past where the margins are no longer marginal. No wonder Mac throws considerable shade at the theatres that refuse to programme the work (our own National Theatre gets a blasting) or bundle it into festivals of outré entertainment. I love the way 'universality' is derided here as something for straight white guys and the women who drag them to the theatre – but, equally, the history of the other is the history of us all.
Here's another thing about tinsel. After silver, after tin, lead alloy became the manufacturers' base material of choice. Hanging with weight, resisting tarnish – and, whoops, poisonous, which is why you don't find it on your tree these days. Appropriating queer culture feels like fun, but don't expect it to be toothless. I'm not sure we were all made as uncomfortable as Mac threatened – and my discomfort threshold is low – but the blush-making awkwardness of wibbling our hands in the air, the personal space invasion (laying your supposedly drunken head in your neighbour's lap), the saliva-slick of grossness (spit a ping pong ball in a stranger's mouth!) were all liberatingly uncosy moves. High art brutalism briefly became democratic sweatbox. Marginal became crucial. Tinsel became treasure.
Taylor Mac, previously (as playwright)
Follow David on Twitter: @mrdavidjays