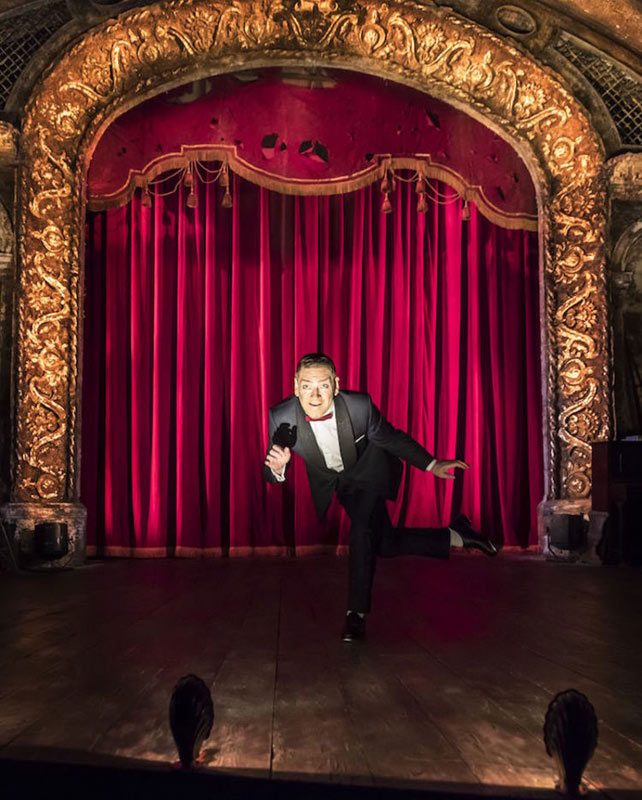 I rarely meet a revival I don't like. Classic plays are good for thinking: they re-reveal themselves in each new production, and choices in text and staging function as a conversation between a past and present moment – whether sympathetic discussion or knockdown argument.
And then comes Rob Ashford's benighted retread of John Osborne's The Entertainer, which doesn't so much converse with the play as let it drone on, uninterrupted and unquestioned, burying its cast and stultifying its audience.
Before I rant, a big old disclaimer. I can only discuss the first half of the show, because, very unusually, I bailed at the interval. I wasn't on professional duty, I'd paid for my tickets, so felt no obligation to stay. My pal last walked out of a play in 1978 (the premiere of Plenty – she still can't forgive David Hare), but also longed to make a dash for freedom.
Premiered in 1957, the play starred Laurence Olivier, famously reinventing himself as Archie Rice, a failing comic in the dying days of music hall. Archie's act trumpets tatty patriotism and hetero-lechery, but his miserable family life exposes how out of step with the times these values feel. His act dwindles, his family fractures. The empire crumbles just as everytown's Empire Theatres fall dark.
It's a verbose play, and needs a production that talks back. Ashford, however, is a workmanlike director who doesn't add anything interesting to a play, just helps it trundle from curtain up to curtain down without falling over. But The Entertainer isn't neatly self-sufficient. Why disinter it? The revival, announced over a year ago, has coincided with Britain once again ingloriously losing its place in the world – but Brexit schmexit, there's no insight into what that feels like. Osborne mouths the change, but doesn't embed it: 'his narrative technique hardly exists,' noted the New Statesman in 1957. Rattigan, supposedly knocked off his perch by Osborne's rise, can be equally conservative and sentimental. But juxtaposing this revival with The Deep Blue Sea at the National makes it clear that while Osborne's subject matter (sex and socialism) may have been unusually forthright, his style now seems stale (grinding exposition, drip-drip secrets, slap-across-the-chops symbolism).
Sitting at the very back of the Garrick stalls, squinting between heads at the slumberous proscenium, feels like peering back through time to a distillation of 1950s West End mediocrity. People move only when they speak, fossilise when silent. None of the Rice family behave as if they've met before (smart cookie Greta Scacchi, playing boozy and blowsy; poor Sophie McShera, squeaking politely through the pallid role of Archie's daughter). Christopher Oram's lovingly textured backstage set – such care to make something look so shabby – turns the domestic interactions into overcooked routines. Big speeches whomp out front, while Archie's gruesome act plays like a whimpering series of little deaths.
'I have a go, lady'
The play wasn't written for Olivier, but if biographers tell true he was perfect casting. Olivier was Archie Rice: vain, protective, vulnerable, a family man without loyalty, an actor most alive onstage. The only difference – a huge one – is that Olivier had talent.
We're often told that Kenneth Branagh trots in Olivier's footsteps (Henry V, multiple Hamlets, the last of the actor-managers), but he's a very different kind of actor. As Matt Trueman suggests, he retains an enduring innocence, parlaying roles through a warmth and integrity, rather than bending them to his chameleon will.
Given the famous Tynan review of Olivier, it's a surprise to find Archie's ailing shtick less prominent than the mithering family drama. Branagh can't find a plausible take on Rice's act. The evening begins with a smoke-lit tap number surrounded by willowy dancers: does Archie think of himself as Gene Kelly doing Slaughter on 10th Avenue? But the idea is dropped, as Branagh lobs everything he has – guile and sinew, moue and muscle – into the leaden patter, dotted with Osborne's cringey flounces of homosexual panic. Is Rice a swivel-hipped hoofer who has lost his way? A no-hoper slogging through a no-hope medium? A satirist revealing truths through inadequacy? This Archie isn't dead behind the eyes, but blinking in panic as nothing he tries makes sense.
Branagh is the wrong kind of overbearing, but it's not that you don't believe in Archie's act, it's that both chat and songs have too much point, and none at all. They have to embody small-minded Englishness (it's like watching Nigel Farage's warm-up act), but convince that there's a kind of nobility in the mere attempt to entertain. 'To carry on like this, year after year,' wrote the critic Harold Hobson of the first production, 'is also a form of heroism.' Or, as Archie likes to chirrup, 'I have a go, lady.'
How heroic is it to carry on without the faintest idea why? That's post-Suez and Brexit all over, I suppose. Masculine self-pity refuses to go out of fashion – and has rarely sounded less appealing than here.
Follow David on Twitter: @mrdavidjays