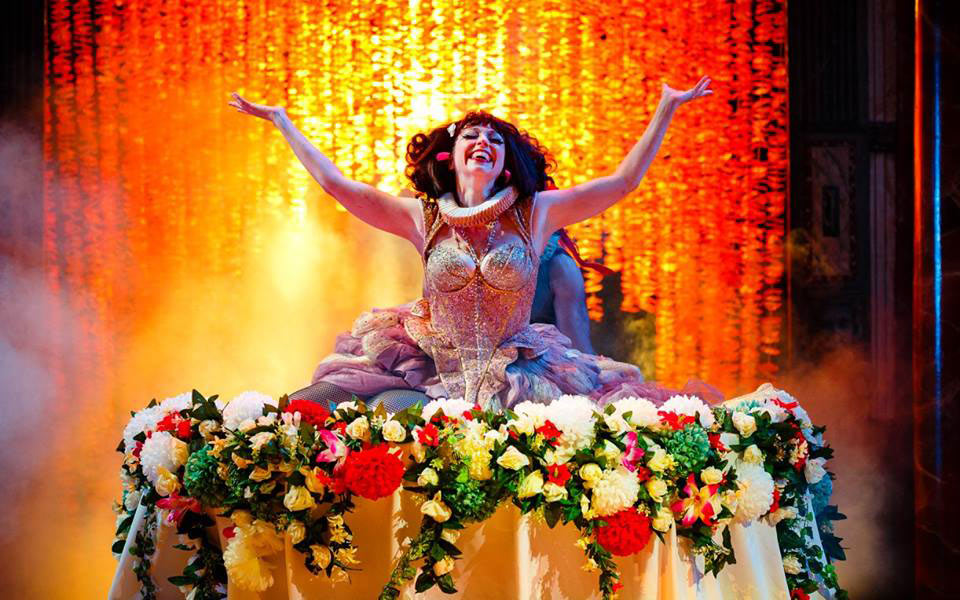 When Emma Rice was appointed artistic director of Shakespeare's Globe earlier this year, it seemed an inspired choice. Irreverent, populist, she was director of Kneehigh. a company with a ballsy, outward-facing performance style splashed with visual and musical vigour. Her initial Globe interviews, however, wound me right up – she couldn't stop banging on about how she struggled with Shakespeare, how she was often bored or baffled, how alienating the plays were. It was like some philistine version of tourette's, drowning any sense of why she would want the gig, or why the theatre would want her.
The opening productions of her 'Wonder' season make everything perfectly clear – Rice's own production of A Midsummer Night's Dream, Shakespeare's most popular comedy, and Caroline Byrne's of The Taming of the Shrew, his most rancid. Each looks the audience in the eye, unafraid to delight and disturb. They're not just big-pitch entertainments – they're bracingly intelligent arguments with and about the plays.
Rock the ground
Rice's Dream is a proper yomping treat. Riotously designed (by Börkur Jónsson and Moritz Junge), dunked in bhangra and coloured lights: a neon scrawl of 'Rock the ground' above the stage. Rice throws millions of ideas at the play – way too many, but nearly all good. The mechanicals are am-dram Globe stewards, all but one female, led by Rita Quince and her tambourine ('I'll have you know this was given to me by Mark Rylance'). The changeable lovers are transformed: neglected Helena is now Helenus (Ankur Bahl), gay best friend of nerdy, fiery Hermia (Anjana Vasan). For a wonder, you care that they get the right guys, calculate how long their happy endings would last.
Some purists grouse about Rice adding theatrical lighting and amplification to the productions: but it's a living theatre, not a museum replica, and though I'm rarely a fan of amplification, I've spent too many Bankside evenings being shouted at by shouty blokes to protest. Rice doesn't just add light and sound to the Dream: she teases out shadow and silence. There's darkness here, especially among the supernaturals. A sour Oberon (gloriously sonorous Zubin Varla), daffy Titania (cabaret star Meow Meow, woozily at war with her tights) and needy Puck (Katy Owen) are locked in immortality: stuck in forever and none too happy about it. And guess what? Rice's worries about text meant that every line was crystal clear. To leave the theatre into a courtyard stippled with fairy-lit artificial trees achieved a true waft of wonder.
'Objection!'
If there's wonder in The Taming of the Shrew, it's wondering why the hell anyone would still stage such a horrible, joyless play. I've seen productions which argued that it's fundamentally a romcom, about two outsiders finding love, defying their mercantile society, taming each other. Bollocks to that. It's a misogynyrama. Petruchio bullies, starves, sleep-deprives his bride Katherine. She's made to say that day is night, that sun is moon, to bend her brain to his will: and then forced to tell other women to do the same. As a romcom, it's as funny as pleurisy.
Byrne could shrink the subplot yuks, which gnaw at your patience. But she doesn't varnish Katherine's story in the slightest. My savvy pal was first in the groundling queue for the preview we saw, so our chins slumped on the stage at the very centre of the front row as Petruchio's mistreatment of his new wife gathered momentum.
Aoife Duffin (amazing recently in A Girl is a Half-Formed Thing), who joined the production at the last minute, led an Irish cast as a superb Kate: her urchin frame unleashing a deep, Kerry yowl, eyes wide with incredulity and dark with torment. She's first seen deep in a newspaper – the only character with an apprehension of a world beyond marriage market and legacy retrieval. Much good it does her – the loudest voice in the play, she's effectively rendered silent because no one listens. During a jostling farce of the wedding service, as a lackey priest murmured about impediments, my pal yelled 'Objection!' No one listened to her either.
Kudos to Edward MacLiam for not slathering roguish charm over Petruchio. A stranger to both hygiene and humility, his courtship is a bit rapey – a big man's arm barring the exit of a small woman is chilling – and his marriage massively abusive. He lives like a pig and acts like a thug, keeping Katherine dirty, hungry, sleepless. The eyes of the terrified servant say everything you need to know about life with this squalid domestic tyrant.
Women play all the servants in Byrne's production: a silent snarl at the play's gender hierarchy. Setting it around the Easter Rising in 1916 adds a slight frisson – the promise of rage against a coercive old order, tweaked by the campaign for women's suffrage. I had hoped that Amy Conroy's sombre widow, hovering around the action, might conceal an incendiary device under her jet black wig, but no such luck. It's a tribute to Byrne's furious argument with the play that we left seething.
Joy and argument
Mark Rylance and Dominic Dromgoole positioned the Globe as an essential theatre, though I resisted its charms for a while. Rice reinvents it yet further: rather than fretting about relevance, diverse casting and gender parity, she just does it, so that what's on stage looks and sounds something like London. As Luke Rollason, editor of Theatre Bubble, writes, 'it seems apt that such an architecturally democratic building should become an artistically democratic institution.' An open place of joy and argument? That's truly a wonder.
Follow David on Twitter: @mrdavidjays