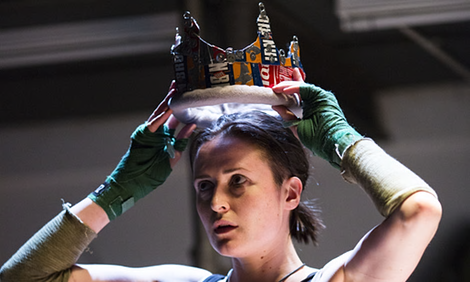 From dude to dodo is a trick of vowels and imagination. Maybe, if we're tired of seeing men dominate our stages, we need to exercise our imaginations, especially when it comes to casting. Unexpectedly, Shakespeare is leading the way.
Shakespeare productions swapped gender from the word go, with the all-male Elizabethan companies. Sarah Bernhardt, Angela Winkler and Frances de la Tour have since played Hamlet. So too, in 2014, did Maxine Peake. Phyllida Lloyd's all-female Shakespeares include Julius Caesar and Henry IV, each led by Harriet Walter, and The Taming of the Shrew, to be revived this summer with Janet McTeer as Petruchio. Other coming attractions include Gillian Bevan ('Polonia' to Peake's Hamlet) playing Cymbeline as a female monarch for the RSC, and Tamsin Grieg as Malvolio in the National's next Twelfth Night. Trumping these announcements was the news that Glenda Jackson, released once again into acting after two decades in politics (which is pretending, and not the same thing at all), will play Lear in Deborah Warner's Old Vic production.
It's an exciting moment, giving female performers access to front-foot narratives and power-charged language that have largely been a male preserve. As critic Matt Trueman notes, 'the worry is, however, that this is a passing fad' that must become 'the new norm..' The current casting coups may only be a moment, and may not stretch far beyond Shakespeare – though I hope it's more than that, a way of unshackling not only casting patterns, but some of the ways in which we think about gender.
Vanguards of humanity
Here's the pop theory: gender is performance. Women know that femininity is a masquerade. Even today, they negotiate the social realm aware that all speech is script, all movement choreography, all appearance costume. Men still only fitfully recognise that masculinity too is performance – a series of choices presented for public display. Even as a guy manspreads and mansplains, he's demonstrating culture, not nature.
Theatre lets characters test gender roles before our eyes – just as a Restoration wannabe gets his fop on in The Man of Mode, or Manon learns how to dial up her flirt. That's why the wealth of women playing male characters is important. They expand the possibilities for actors – once you've cast one female Lear, Hamlet or Malvolio, what's to stop you casting another, and another?
But ideally, you can expand the possibilities for us all. Harriet Walter, after playing Brutus and Henry IV, told the New Yorker that Shakespeare 'doesn't write less well for women; it's just that the themes are smaller, on the whole, and they are less fulfilled characters… the culture that followed in his shadow has reinforced that. It does have an effect on us.' It sounds batty to suggest that Shakespearean actors are in the vanguard of a brave new humanity: but Peake's Hamlet and Jackson's Lear may not only make us familiar with women as antonymous protagonists, but may also remind us that gender isn't binary, and that a character's gender may not be their defining aspect. It might be almost incidental.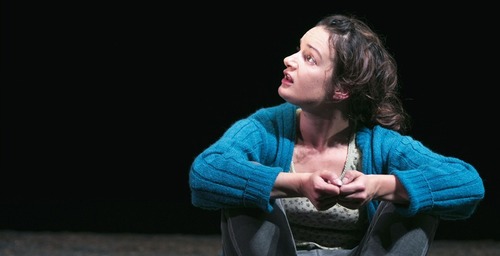 What stories do we tell about gender on stage? The director Katie Mitchell insists that 'I find Hamlet offensive from a gender point of view,' weary that 'the idea of the depressed, heroic, violent man, is still very much in our culture.' The producer Rebecca Atkinson-Lord wrote recently about ambiguous female agency in drama. Even when the protagonists of a play, she asked, 'have you ever noticed that the sort of Bad Things that happen to women in stories aren't the same things that happen to men?' She argues that the Bad Things are often sexual – abuse, assault, pregnancy – as if women are still viewed through the prism of sexuality.
It's a fair point – but I begin to wonder if we also need to reverse the argument. Perhaps only a vulnerable, marginalised protagonist can present our era of austerity and scrappy opportunity to us? Take the solo narrator in A Girl is a Half-Formed Thing (pictured above), brilliantly adapted by Annie Ryan from Eimear McBride's novel and performed by Aoife Duffin with an intensity that sucks the air out of your lungs. The character is buffeted by experience, sees the world slide behind her eyes and through her body. Theatre can privilege this kind of engulfing vulnerability: as in Men in the Cities, Chris Goode's collage of fury, impotence and ceaseless self-harm, it's a form that allows us to explore the murky corners of masculinity.
One of the most memorable performances of last year was by Jason Hughes as a bruiser of a bloke. When we learn that the father in Gary Owen's Violence and Son is nicknamed Viol, short for Violence, we suspect that things can only end badly. This is patriarch as pugilist: Hughes isn't a huge man, but his rangy, restless presence looms, and you brace yourself for battering. As Viol passes on awful life lessons to his son, handing down a combative construct of manliness, the real wound is not just psychotic. It's psychic.
The real damage is to a gentler masculinity. In a form in which language is confidence and taking the stage is also claiming the space, then uncertain narratives will be bullied towards the edge. It's striking that all-male Shakespeare productions have often been far less revealing than their all-female counterparts – because men perhaps find it easier to strut and josh. Cheek By Jowl's landmark As You Like It, starring Adrian Lester, is a rare counterexample, unsettling femininity and masculinity into terms that felt inadequate to human experience. Like the performances by Phyllida Lloyd's companies, it was exhilarating. Seeing people being, which let us rethink them. For what is identity but character in action?
Main image: Clare Dunne in Henry IV. Photo: Helen Maybanks.
Follow David on Twitter: @mrdavidjays