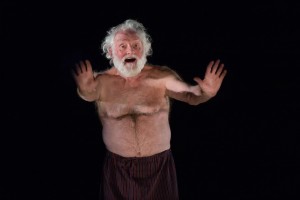 What will your death be like? Probably not like this. Blank, seen in the Bush Theatre's recent RADAR Festival, is a semi-improvised piece by Nassim Soleimanpour. A one-time-only performer receives a script full of blanks, the key words are missing. Some blanks the performer fills; others are solicited from the audience; and a volunteer is selected to add details from their own biography. When I saw it, affable writer/director Tim Crouch (who as creator of An Oak Tree has form in conducting this kind of sight-unseen work) plucked a spectator from the second row: a charming Parisian called Laurence with luxuriant hair, a sunny disposition and 22 years on the clock. Crouch made gentle play with Laurence's apparent ease with life and love, the sense that everything was before him.
The final section invites the interviewee to imagine their own death: location, companions, state of mind and health. Given a format that verges on the fey, a lurch into harsh seriousness might have been unbearable. But Laurence conjured a bucolic passing on the beach at St Tropez, last days spent loving and gourmandising. Though sincere, he couldn't imagine beyond sun-kissed fantasy. And why should he? He's just 22. Let him dream a while longer.
My death date is almost certainly closer than my date of birth. Scenarios of easeful passing have fogged my brain since sensitive adolescence, but though an idiot I'm not a fool. I know some of what's coming. We're living longer in the west – longer than we might wish to, in many cases – and though it's clear that old age isn't for cissies, we still don't find it easy to think about. And we don't know what comes next.
We don't know what to say – and we say it
Here We Go, Caryl Churchill's new play at the National Theatre is a 40-minute provocation about old age and death. It's a triptych: what we say about death, what we think about it, what we know. The first scene is a funeral after a life apparently well-lived – warm, amorous, politically active. The fractured lines (as often in Churchill, lines aren't assigned to particular characters – anything between three to eight actors should work, reckons a note in the published text) are heartfelt but Churchill saws them short as they trail towards platitude. Only the oldest speaker, etched with baleful beadiness by Susan Engel, punctuates the generalised respect. Mostly, people don't know what to say, and they say it.
Each character, at some point, looks out and announces when and how they die (the following day, decades later; lung cancer, swimming in the North Sea). These statements are short, specific – characters play coroner after the event. The second scene shows us an elderly man (Patrick Godfrey, pictured above by Bill Knight/theartsdesk ), spotlit bare-chested in a void, recently dead and yet unable to define where he is. Churchill nails the problem of death for the secular – Godfrey (an often soft-edged actor digging into fear and exasperation) conjures a series of second-hand afterlife scenarios. Trad Christian, ancient Egyptian, reincarnation, and, to his annoyance, images from Orpheus and Groundhog Day. Even the non-fictional ones he doesn't believe in. So what is there? As Godfrey advances towards us almost imperceptibly through the ink-deep dark, his confusion becomes sharper – and then, suddenly, stops.
So much for what we don't know. Here's what we do know. Churchill's final, wordless scene is her bravest. An old man (Godfrey again) is in his room – a bed, an armchair; it's not stark, but it's impersonal. A tabard-clad carer (Hazel Holder) helps him out of his maroon pyjamas, into his clothes, leads him with his walking frame into the chair. Where she helps him out of his clothes, into his pyjamas, leads him with his walking frame onto the bed. Where she helps him out of his pyjamas, into his clothes…
Refusing to rush
The silent repetition clearly drove some of the audience to distraction. Coughing, shuffling, giggling. Whispers, sighs. The couple next to me kept up an irritated barely-sotto commentary: the man booed at the end and got into a spat with another neighbour ('It's rubbish! And if you think it's good, you're stupid'). It's facile to ascribe motives, and I shouldn't suggest that irritation is a sign of denial. But I did think: what the fuck do you imagine our old age will be like? If 20 minutes tries our patience, imagine how the real thing will feel.
Because this is the thing. Most of us will do some kind of caring and then be cared for. If we're lucky, our care will be caring, careful. Finely directed by Dominic Cooke, Holder and Godfrey did this scene beautifully – refusing to rush, though they must have sensed some spectators champing at the bit. We don't know if the man is ill, senile or just, you know, old. But the dressing and undressing was done with methodical attention. When Holder was fixing the velcro straps on his shoes, Godfrey would look out, some degree of bewilder ruddying his face. And then they'd carry on. And carry on.
'As Churchill's plays have reduced, they also somehow have seemed to expand,' writes Andrew Dickson in a New Yorker piece on her work. Here We Go was, for some, a long 40 minutes. For me, it wasn't long, but it was deep. To use the National's wide, cavernous Lyttelton stage for a small-scale play which asks such urgent questions – and, despite its brevity, makes huge demands on our attention – was bold. It doesn't make me any more cheerful about what's in store, for me or for those I love. But at least it reminds me what's coming.
Follow David on Twitter: @mrdavidjays