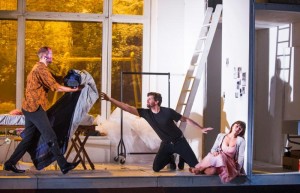 Directors have been shuttling between theatre and opera for decades now. Makes sense. Both forms tell stories, establish tension, explore characters and ideas. Ten years after Peter Gelb took charge at the Met, directors with stage cred (Bartlett Sher, Richard Eyre) have become recurring guests, while John Berry, ENO's departed chief, hired Complicite's Simon McBurney and Improbable's Phelim McDermott.
Opera often attracts the control-freak end of the spectrum: Robert Wilson's abstraction or Katie Mitchell's choreographic naturalism. Both artists can extend a scene far past stage convention, yet a defining element of opera lies beyond a director's control. In opera, time belongs to the score, not the stage. When music starts, time stops. Or speeds, or bends, or warps. Opera disdains the clock – it sinks into the past, soars into the future, suspends moments of bliss or torment.
In the theatre, Australian director Benedict Andrews plays time like a virtuoso. His production of Puccini's La bohème, originally staged in Amsterdam, is now at English National Opera: can he make time stand still, or make it run?
Complex nostalgia
Time is vital to La bohème, which from its conception was a project of complex nostalgia. It is based on Henri Murger's fragments from his misspent youth in 1840s Paris – consecrated at the comfortable distance of middle age. In Andrews' 1990s-set production, designed by Johannes Schütz, aspirant writer Rodolfo and his artist bros share a big-windowed, white-walled space: pre-gentrifying hipsters or trustfund tossers? Lisa Carroll, the generation rent reviewer on A Younger Theatre, describes it as 'on point in how it nods to what bohemia really is today in London: it's the kind where "struggling artists" actually live in expansive converted warehouse loft apartments paid for by their parents – which is to say, not a bohemian lifestyle at all. Indeed, I wouldn't feel too hard done by living in the spacious, lofty apartment.'
Complex nostalgia is very much Andrews' bag. Characters in his productions for London's Young Vic are lost in thrall to the siren of times past. The three stuck-rut sisters, fixated on their Moscow childhood; or Blanche du Bois unravelling on a continual slow revolve, the Belle Reve of her past an ever-receding dream. These harsh plays dramatise the cruel passage of time; in the Chekhov, Andrews showed characters trying in vain to stop the clocks – gazing as a tiny spinning top declined at the front of the stage, or frantically enjoying a still-young holler of Nirvana, too quickly snuffed out.
If these characters sigh for their youth, Puccini's hipsters and heartbreakers are living it, with mixed success. For all its consumptive trajectory, La bohème is about grabbing at life, not lamenting it. Most Mimis might as well trail a shroud for all the vitality they exhibit – delicate is the default setting – but Corinne Winters gave her a welcome sense of agency. Long before her entrance, we see her hovering outside Rodolfo's door – she's waiting till he's alone to tap him for a fix. She knows her mind – she even makes jokes, almost unheard of in the soulful seamstress.
Trying not to pun about a heroine or heroin here, but shooting up enhances the score's time-warp. Mimi and Rodolfo's coup de foudre – tiny frozen hand, melting duet – becomes post-hit languor, the pair lying on the floor, semi-tangled in delighted exhalation. As the boozy bohemians are always hunting to get off their heads, it's no big step, though some reviewers have been jolted into nostalgia for period stagings past (tellingly, some favourite versions last for decades – John Copley's Royal Opera staging bowed this spring after 41 years; Zeffirelli's sumptuous Met Opera show has been in the rep since 1981).
Holding back time
I may be reading too much into Andrews' show, but it feels as if the lushly-determined score (often given a furious momentum by conductor Xian Zhang) means that time's work is done for him. The lads can snatch at work and fun, squander hours and wallow in bad relationships, because they think they've all the time in the world. Andrews' hipsters are louche and geeky, self-absorbed and silly – food fight! paint fight! – they're not listening to the music ticking down. I've never been more conscious of how the opera's plot arcs over just a few months. Mimi and Rodolfo meet on Christmas Eve; they split in the new year; and Mimi dies as spring arrives. There was something so small and desolate about Mimi's death – the japesters are jolted into seriousness, but don't know what to do. They go out to score some 'medicine' or stand about, paint-smeared; Rodolfo eases away from her because he thinks she's just sleeping. Music resets the clocks, or stops them altogether. Holding back time, just after it's gone, they barely have time to assemble memories – assessing the fragments is work for middle age, if they make it.
Follow David on Twitter: @mrdavidjays