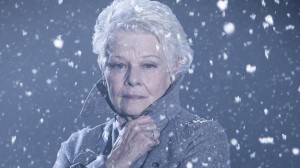 The writer Veronica Horwell likes to describe acting as laboratory for human behaviour, and believes that actors try out ways of expressing and inhabiting ideas and emotion. It's a brilliant idea – acting on behalf of humanity – that I find endlessly helpful when thinking about why we value acting, and how to read it. Messy, imperfect theatre, changing from night to night, may not allow sterile laboratory conditions – but it's all the more interesting for that, as a place to explore versions of the self, and to explore selves one couldn't possibly contain.
I recently interviewed Judi Dench for the Sunday Times, alongside the effervescent Jessie Buckley as they prepared for The Winter's Tale with the Kenneth Branagh Theatre Company (it will be broadcast into cinemas). I was more than a little overawed (Buckley caught my eye and mouthed, sweetly, 'I'm like that every day') as Dench is a particular stage hero. The conversation reminded me exactly why – the way she wears both humour and sorrow so close to the surface, all sneaking through that glorious voice of crackled directness.
Passing through
One of the things I was interested in was the way lives pass through an actor during the course of a career. Dench has played all three leading female roles in this play – she doubled both wronged queen Hermione and her lost daughter Perdita in a famous 1969 RSC production, and now took on Paulina, the wise, testy magus who engineers the play's reconciliation. In this production, Dench also plays the choric figure of Time, who more than anyone helps the story skirt tragedy and find some kind of safe haven.
The Winter's Tale, with its panoramic span, allows an actor to revisit it and mark the stages of their career through different roles. I met the fine actor John Dougall when he was rehearsing Propellor's production, and told him that he'd played young prince Florizel the very first time I'd seen this play (he has also played Leontes). What was he playing now? He gave me a dry look. 'The OLD Shepherd.' Ouch. How one play can remind you your dewy days are fallen into sere.
Knowing what's coming
Passing through the same story from different perspectives, an actor can filter experience differently each time. Audiences too, of course – I was at school when I saw that first production, gusted by indignation and incredulity at Leontes' tyrannous jealousy and its disastrous consequences. Now I know what's coming – and I know that life throws the unexpected at you. I watch with a different sense of recognition and foreboding. The new production of The Winter's Tale by Branagh and Rob Ashford held me throughout, both because I knew just what was coming and was unprepared for how it arrived. It isn't a revelatory reading, but many of the cast – Dench and Buckley supreme amongst them, but also seasoned artists like John Shrapnel and Jimmy Yuill – dig into the lines and find nuggets of surprise and self-knowledge.
I've often wondered whether having the opportunity to explore extreme states of behaviour is of any use when actors encounter grief, fear, love or loss in their own lives. It's a fanciful notion perhaps, and Dench said, 'I think it's the other way round. You have to use what you've either experienced yourself or watched other people experience, or maybe read about or seen. I think it's that way round.' She thought for a moment and remembered a note that her friend, the actor Donald Sinden, wrote to her 'not long before he died. It said [quoting Hamlet], "I have of late, though wherefore I know not, lost all my mirth."' Her eyes filled with tears, and she added quietly, 'so that was the other way round.'
Buckley's take is that 'every play has a more heightened circumstance than everyday life, so you do have to reach for something. But you have to needle in to find honest people. You want audiences to recognise something in us.' I'm glad that actors are trying out these states and experiences, letting us see and feel them from the relatively safe distance of the auditorium. As Buckley said, rather wonderfully, 'that's what you do in the theatre – it's for them, it's not for us.'
Follow David on Twitter: @mrdavidjays