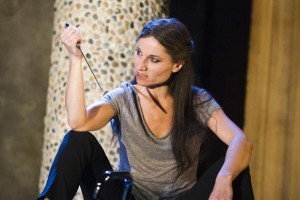 Advance booking for the theatre can backfire. I saw Medea at London's Almeida Theatre yesterday, so missed the UK's major television event – the final of the Great British Bake Off. Medea was, yeah, interesting and all – but it didn't produce the swirls of joy and empathetic tears provoked by Nadiya Hussain's three-tiered victory. I have only just left BBC i-player, my cheeks a lemon drizzle of emotion.
But the cosy baking show and comfortless tragedy share a universe – especially in Rachel Cusk's new, contemporary-set version. Her Medea is a writer of, we gather, well-regarded literary fiction , whose actor husband has deserted her for a tycoon's pampered daughter. The family home is being sold from under her in the divorce settlement. Pace Andrew Haydon, who describes Ian McNeil's set as 'a slightly deconstructed version of a flat I wouldn't mind living in', I couldn't settle in this cold, sombre-smart pad, all dark wood and hard furnishing, where characters perch with varying levels of discomfort on the edge of a vast steel basin. It's a house, but no home.
Not one of us
Crucially, bake-off chums, there's no visible kitchen. Whatever Medea has been cooking up in her nest, it sure isn't cupcakes. No domestic goddess, it's no wonder she seems 'not… one of us' to the chorus of yummy mummies, a mumsnet coven of complacency, disapproval and subsumed fear. We've met these women before in Cusk's writing: they were excoriated in a borderline insufferable article about her brief membership of a book group. 'I sat there wondering how the reality of life could have no power over them,' she sighs. This produced a sharp response from a fellow-member, recalling that Cusk 'projected her own literary insecurities on to the group and then browbeat us with eulogies of safe (ie long-dead) authors… She cast far more gloom than Chekhov ever managed and precipitated a rash of resignations.'
Cusk, who believes in revenge by manuscript – her Medea denouement depends on the cataclysmic potential of a witty screenplay – makes the chorus a robotic quintet of stayathome judgement, dependent on their husbands, drawing in the wagons around their comfort. This smothering brood of school-gate disdain is unlike Euripdes' sympathetic chorus, who recognise Medea's plight but fear for her.
Kate Fleetwood's heroine also has to face a vicious, shallow husband (Justin Salinger), a disapproving mother (Amanda Boxer), the tycoon determined to push her into penury (Andy de la Tour). Even the gay friend who abets her revenge (Richard Cant) and the Brazilian cleaner who has troubles of her own (Michele Austin) tend to lecture rather than listen. Medea bides her time through these duologues – Fleetwood brilliantly locks down the steel planes of her face, bones tautening as she tries not to thump anyone.
Why do we watch the Great British Bake Off? Charlotte Higgins' analysis pins it on a fundamental niceness. Baking is a nice thing to do, done by kind people, in a lovely tent decorated with bunting. It's true, the kind-hearted spirit that settles like a dusting of icing sugar isn't for everyone. Remember the witch in Sondheim's Into the Woods, sneering, 'You're so – nice./ You're not good, you're not bad, you're just nice.' And who's she addressing? The baker. Of course she is.
So why do we watch Medea? Cusk's heroine periodically challenges us about this: often silent in the face of speechifying, she then turns on us, scoffing that she feels pain so that we don't have to. Fleetwood's glint-eyed, feline-wide features – at once broad and angular – and her smile like a set of knives, refuse easy empathy. She hugs the pain that wound sher. She snarls if we approach.
Even the cuddliest wife and mother can arouse suspicion. One reason why Medea should resonate – though too often recessive in stage productions, and wholly absent in Cusk's version – is her foreignness. An immigrant, Medea came to Corinth for love, to make a new life, to flee persecution – and her new home is never quite welcoming. Nadiya Hussain, despite being British born, attracts similar fears. How could a Muslim woman in a hijab win a contest for British cookery? 'It's full-scale ideological warfare,' says the Sun columnist Ally Ross. Motherhood makesher oddly unsettling. What alien ideology is stashed beneath her sugar-dusted kitchen surfaces? What values is she spoon-feeding us along with the lemon drizzle?
The real spoilers start here, so look away if you'd rather. Cusk's Medea doesn't poison her rival and immolate her children. She walks away. She just leaves a life that makes no workable sense. In Rupert Goold's production, McNeil's back wall rises to reveal a flame-red mountainscape (a nod to Euripides' dragon-drawn chariot, perhaps), and Fleetwood shovels earth into the stairwell of her former home while the mums and other voices continue to talk at and about her. Finally, a hermaphrodite deity (Charlotte Randle, ballgown blonde on the right side, tuxedo on the left) relates the unconvincing aftermath of her departure.
Medea is often a little bit Doll's House – though unlike Ibsen's Nora, who strides into the world, Fleetwood's heroine is leaving her unsatisfactory world behind. Leaving us too, because Cusk frames us as part of the problem – as petty-minded and timorous as any of the characters. The solipsistic scorn of which the writer is often accused closes in like a fog. Only Medea can throw aside the sponges. Only she can live bravely. Only she can leave the tent.
Follow David on Twitter: @mrdavidjays