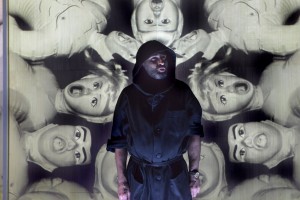 The Young Vic is calf deep in sex dolls. Tacky plastic fake-flesh spills over the stage as Measure for Measure begins, a 'huge peach heap of vinyl orifices,' as critic Natasha Tripney wrote. Mouths agape, legs akimbo, pneumatic and tumescent, it's a prospect of everready rut. Officials pick their way gingerly through them: the deputy Angelo (Paul Ready) raising his bible to avoid contamination.
It's a clear image for a society of pleasureless self-pleasuring. When the duke (Zubin Varla) takes a mysterious sabbatical, Angelo's civic clean-up sweeps this plastic tide of filth to the back of the stage. The duke, disguised as a friar, meddles to ambiguous effect in the campaign against sexual license, and lets us feel the hot breath of disaster before pulling it back – again, to more than ambiguous effect.
This is the third London showing this year of Shakespeare's slippery text: Measure is having a moment. Anything to do with its hot core of sleaze, disillusion and the spectacle of power? Ooh, it's possible. This spring, Cheek by Jowl's forensic production with Moscow's Pushkin Theatre settled without strain in contemporary Russia. Brothel-keeper Mistress Overdone was a sleek madam to the oligarchy; Angelo's attempted rape and vicious dismissal of Isabella, a novice pleading for her brother's life, was utterly plausible. Alexander Arsentyev's awkward duke transmuted into a Putinesque player in a public masquerade of arbitrary justice.
Zubin Varla at the Young Vic (pictured above) plays the duke as cunning with an overlay of nutjob. Not since Complicite's similarly unsparing version at the National Theatre have I seen a production which so refuses to let him off the hook (John Mackay, as the louche Lucio, sees through him instantly). His disappearance has nothing to do with humility, but strategy – shifting blame and sidling the state into reinforced repression.
I adored Measure as a teenager. Home alone, I'd stride around declaiming Isabella's speeches, high on her roiling indignation. Having spent years directing ire at Angelo (what? Some of my deepest relationships are with fictional characters), it took a while to realise that my inner nun should properly have denounced the duke, not his fall guy, a creeping Jesus with a nasty imagination. It's the duke who makes justice a series of pointless, coercive hoops for Isabella to jump through; the duke who tries to blackmail her into an unwanted relationship.
Director Joe Hill-Gibbins pursues ideas of sex and power in classics (Edward II and a jelly-smeared Changeling) and explored civic rage being declawed in Alecky Blythe's Little Revolution. His shows are also big on plywood, creating makeshift, unsettled environments. In Measure for Measure, designer Miriam Buether uses the plywood prison wall to project Breughelesque diptychs of heaven and hell, live footage of interrogations, the public shaming by sex tape of Isabella's brother. Sheared back to an uninterrupted two-hour sweep, it paints graphic outlines for the characters which an excellent cast fills and complicates. The dolls are pushed back because, though eye-catching, they're not the point: the production grips hard on the intrusive state and abuses of power. It's a fast and increasingly furious evening.
Speak truth to power
Measure for Measure was not the only smart production I saw last week about the callous policing of pleasure. In both, something which should be beyond the state's concern (sex and fun) is corralled with excessive severity, even brutality. The Beanfield, a fantastically alert debut by Breach Theatre, recent graduates of Warwick University, traces their attempts to recreate the so-called Battle of the Beanfield: a 1985 police operation against travellers mounting a free festival near Stonehenge, which led to mass injury and arrest but not one criminal trial.
The Breach team is comically aware that their resources (six actors, a camera, home-made costumes) are wildly inadequate to large-scale recreation: though, as disproportion of forces marked the original events, it seems fitting. They weave between reading puckishly earnest exchanges with sources, filmed interviews with witnesses (a reporter, a former traveller, an ex-cop), footage of their preparation (assembling costumes, giggling through baton play and fight scenes) and of the recreation – which, through tight focus and editing, suddenly feels sickeningly realistic, especially when one actor emotionally complains that the play-fighting is hurting.
They also weave through a shared second-person narrative of this year's sun festival at Stonehenge – mocking its naivety, subdued by security, slowly succumbing to sun-worship. The tone throughout is a brilliantly aware meld of indignation (sharpened by the way student protests at Warwick this year were thumpingly quelled – we hear horrible audio), and of uncertainty. A baton-charged cop going apeshit is an unambiguous image of the state in extremis. But what about the McJobs, surveillance and corporate creep that infuse our lives? How should theatre respond to injustice and speak truth to power?
The Beanfield steps beyond its documentary impulse into an act of theatre – as a woman narrates the delirious climax of the festival, a cop and hippy circle the stage, dance-grapple, and gradually strip off their layers. Costume becomes cloth, personae become people, panting and sweating and looking each other in the eye. It's perhaps a moment of very cautious idealism. Hill-Gibbins' final tableau for Measure for Measure is proper queasy: Varla's duke corrals everyone into a happy ending line-up, pairing off stupefied characters with no regard for consent, clutching Romola Garai's nauseous Isabella. It was nicely described by Anne Jamison on Twitter as a 'live-theatre reaction gif of: What the actual fuck.' No one has a voice. Justice isn't done, even if it's seen to be done.
Follow David on Twitter: @mrdavidjays