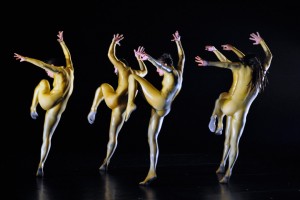 How do you dance a midlife crisis? Hofesh Shechter is one of Britain's most popular choreographers – someone who tugs non-dance fans into the theatre, drawn by the meaty savour of whomping percussion and pulse-tingling sequences of elastic, stomping movement. His work is brainy, full-blooded, unafraid of an argument. It rocks the Royal Opera House and plays by gig rules.
As he turns 40, Shechter should be celebrating – few choreographers achieve their own London festival. #Hofest emerged ready born with its own hashtag and branding, but you can't deny the scale of work old and new. There's a collaboration with the Royal Opera, the UK launch of his apprentice company, the amplified version of his greatest hit, Political Mother. But the centrepiece is a new work for his own company, barbarians (yeah, all lower case, don't get me started). It's less the chest-thumping assertion of an alpha male artist at his peak, more a flailing investigation of midlife woes.
The first section ('the barbarians in love') is scratchy and rebarbative. Unlike much of his previous work, everything fractures. Adrenalin is administered and withdrawn; the score is a slash across the eardrums or a bullying hum, like an air conditioning unit hugging an amp. Electronic snatches of baroque music recur, like half-remembered pieces of grace. Dancers in asylum whites perform sawn-off sequences, cut short before they can bloom into visceral gratification.
The dancers are marooned during an extended voiceover scene in which a truculent and needy 'Hofesh' argues with a cool-voiced computer (Natascha McElhone), like a man shaking his fist at Siri. She needles him about his midlife crisis: he's lost, all direction gone, seeking a thrill but shying from shame. Rather an exploratory new piece, he snaps, than a fast car. (In a earlier version of this piece, seen at Sadler's Wells in February, Hofesh confesses to an affair. 'Ooh, you'll have to ask him about that if you interview him,' said a friend. I chickened out, and the line has gone.)
Even fun can lose its fun
After a rapid ascendency ('my career as a choreographer was like a rocket,' he told me recently. 'Eight minutes in the earth's atmosphere, then into deep space'), Shechter has hardly crashed to earth. Still, he tells an interviewer, 'I experience constant failing in my dreams of life.' Tellingly, Shechter will present a BBC arts show devoted to embarrassment, and its paralysing emotional and physical effects.
Even fun can lose its fun. You see this in the second act ('tHE bAD'), made in Germany, late at night when everyone was too tired to put the brakes on creativity. They even abandon the company's habitual layered earth tones for costumes that, Shechter says, are the last things you'd expect him to go for – shiny gold onesies, tight enough to confirm that the chaps are wearing nothing underneath. The five dancers look, appropriately, like dicks – especially when they thrash and throw shapes like middle-aged clubbers on the razz.
Far gone, they bounce and bang to some thumping choons, though, as ever with Shechter, the propulsion is deceptive – you come for the rush, but stay for the twiddling delicacy of soles and fingers. The company's artists are often engulfed amid the noise and Lawrie McLennan's smoky lights, but here I was transfixed by the individual qualities of the goofy, beardy men and sleek, focused women – especially Philip Hulford's flailing dreads and Maeva Berthelot's scything lines.
It feels like the end of a night when a hangover sets in early: the dancers harangue us ('Fuck Sadler's Wells!'), wheedle ('We love you'), scrabble for meaning. The detached dancers in the first section, the up close and personal cast of the second: all are lost, losing us.
What has it all been for?
The final section makes sense of the show: not for nothing is it called 'Two completely different angles of the same fucking thing'. It's anchored in a duet for two of Shechter's senior dancers – Winifred Burnet-Smith and Bruno Guillore, company members pretty much from the beginning. She wears an elegantly distrait trouser suit; he's a beardy goofball in lederhosen. Facing out front, they dance apart yet together. They remind me of Charlotte Rampling and Tom Courtney in the film 45 Years, a seasoned couple, whose celebration of a lifetime together shades into the fear that that's all there is.
What has it all been for, this striving? As the pair tangle sweatily together, participants from the previous sections join them – the voiceovers, the subjects in white, the hedonists in gold. Guillore is increasingly isolated, quite literally out of step – maybe he's the Shechter figure, feeling maladroit at his own party. 'Barbarian?' Shechter asks in the programme interview. 'It is an expression of self-hatred, isn't it?'
Midlife disgruntlement – it's the worst, because, really, what's so terrible? You grouse, but you can't complain, especially if London has been hashtagged in your honour. Some people (and not just those who often find Shechter too… much) have rankled at barbarians – one friend said he wanted to slap him. The piece may be self-regarding, it may poop its own party – but it never seems a less than sincere way to dig into a creative knot, to look back in wonder at the heedless success of youth and wonder what may lie on the other side.
Follow David on Twitter: @mrdavidjays