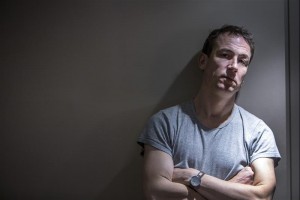 I'm not bad people. At least, I'm not rich people, which is almost the same thing, isn't it? As the oligarchs colonise London, carving out home cinemas and swimming pools beneath its streets, even to bumble along in shabby-chic daze seems virtuous.
The Fever blasted a hole in that particular ship of fools. In Wallace Shawn's 1990 monologue, recently performed by Tobias Menzies with superbly insinuating force, a nameless speaker from a rich country visits a poor one (Shawn himself had visited 'places where people were killing each other, such as Nicaragua and El Salvador'). Reflecting on the comfort he's enjoyed, he understands that his life depends on the vicious misery of countless others – at home, across the world. The fortunate are hammocked by the agony of strangers.
The Fever, produced by the Almeida at London's May Fair Hotel, was offered to a micro-spectatorship of around 28 people per night. Yet Robert Icke's subtly unwholesome production was sharpened by being a boutique event in a bespoke space: it inhabited the play's argument. The May Fair is horribly smart, decorated in orientalist elegance, and as always at a swanky hotel, I feel I've lowered the tone just by slinking across the foyer. We're ushered into a fourth-floor suite, where wine and chocs await. We sink into sofas or languish round a dining table.
If you want to know what The Fever is about, eavesdrop on my pre-show conversation. Sharing a satiny amber sofa, two amiable strangers and I had a polite waiting-for-kick-off chat about plays we'd walked out of. One had recently abandoned the kill-for-a-ticket musical City of Angels ('boring'), the other had blown off Covent Garden's Parsifal at the first opportunity. In retrospect, I wince: having the opportunity both to afford expensive, sought-after theatre seats and then abandon them at a whim, might define the precious remove from the world's realities that Shawn atomises.
A secret meeting of the bourgoisie
Shawn first performed The Fever in his friends' apartments, because, he said later, that reinforced the sense that the play 'was like a secret meeting of the bourgeois class' – 'a kind of declaration to my own friends, first of all, and then to my class… that I no longer believed in the various justifications for our existence that I'd formerly found convincing.'
Uncomfortable complicity is necessary to the play's affect: for all Clare Higgins' baleful mastery at the Royal Court in 2009, she seemed like Cassandra, railing disregarded from the stage. We watched, from a safe dark distance. In the hotel suite, Menzies buttonholed us in the most relaxed way possible: we're all friends here. He caught my eye; I held his gaze, may even have smiled and nodded, long-stemmed glass in hand. I'm amazed I didn't leap up and offer to refresh the nibbles.
Ninety minutes later, goggling as my bus huffed past Mayfair restaurants, Berkeley Square, the dead-eyed mannequins in Bond Street boutiques, I pulled assurance back around me. The forbidding exclusivity beyond the windows is surely what Shawn was writing about – and it isn't my city. It gives me the creeps.
I have learned nothing
Yet, once you've been eyeballed, and Menzies' narrowed eyes have seen you glug the free red, it's already too late. You can't pretend that this isn't about you. The text's verbal cues may suggest an especially snitzy shelf of privilege, but I'm hardly a stranger to knowing assessment of the fish course and frets about comfortable socks. Unless you leave for a remote hermitage immediately afterwards, The Fever – or you – has failed. That's its power (perhaps its limitation). In the days since I've seen a movie, a dance triple bill and the new Stoppard. I've enjoyed more free red wine, and read a plump booklet about the irreproachable sourcing of everything at the National Theatre's latest café: feelgood consumerism at its most self-regarding. I have clearly learned nothing. I might as well have I AM THE PROBLEM inked on my forehead.
What to do with this unease? Shawn himself has continued working on stage and in Hollywood, writing unassimilable plays while balancing roles which putter alongside something demeaning. The Fever isn't quite a call to action or a cry for help. Is it enough to attend to Menzies' fur-edged voice in a hushed hotel room and leave with shame beneath the skin?
Photo of Tobias Menzies by Perou/Almeida Theatre
Follow David on Twitter at @mrdavidjays