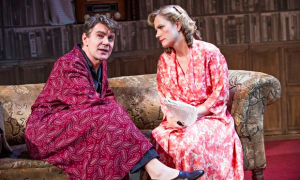 Accolade & The Institute of Sexology
I thought I knew what the 1950s talked about when it talked about sex. It talked about family and heteronormative hearts and flowers. Or else it talked about shame, and disease, and unrequited desire and unnameable longings. The British theatre told me that. Noël Coward opened the fifties with the snob-bound, vamp-shaming Relative Values, while Terence Rattigan's prime (The Deep Blue Sea, Separate Tables) offered poignant stories of unequal yearning – for a heedless chap, an icy wife. Sexual pleasure was fleeting, wounding, isolating, and that alienation so shaped the style of the drama – clipped, distraught, implicit – that it seemed soaked into the fabric of this era's theatre.
So, that's the fifties for you. A stew of polite self-disgust, biding its time for the salty tongue and scruffy manners of Joan Littlewood and the Royal Court. Theatre artists and scholars keep finding new virtues in the plays – layers to the longing, shade in the shame – but I didn't expect to see a play of the era that argued back so convincingly. Until Accolade.
Group sex? In 1950?
Emlyn Williams' play comes from dead-on 1950 and is about sex, or scandal, or marriage, or looking life in the eye. All of that. William Trenting is a feted novelist of strong subjects: good sales, admiring reviews (over-egging the pudding, Williams throws in the Nobel Prize). There's also a nice wife, sweet kid, jolly pals – and now there's a knighthood coming his way. He has a raffish reputation but, guess what, the descriptions of brothels and all things vice don't come from imagination but from Will's rackety binges, when he takes himself off to unfashionable Rotherhithe for drink and group sex. Group sex? In 1950? Oh yes.
Blanche McIntyre's production at London's St James' Theatre is just beautiful. She treats every character with respect, and the result is consistently unexpected – you never know what will happen next. The recurrent surprise is how calmly Will's circle receive news of his antics – from his wife (who has known forever), to his publisher, society friends, even his precocious son. It's blackmail and prosecution that make everything public, but no one remains shocked for very long, no one recoils. Everyone accepts that private lives are messy, many-threaded, things that resist simple categories. Emlyn Williams – not only a celebrated actor and playwright (Night Must Fall, The Corn is Green), but also a married bisexual – had a stake in this argument. But the real surprise is that the play was passed without emendation by the censor. Again, in 1950? Oh yes.
The sex lives of others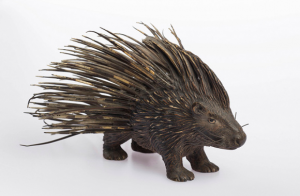 There's a chance to put how people discuss sexual behaviour and identity in perspective via a fascinating new exhibition at the Wellcome Collection. The Institute of Sexology examines pioneering researchers into this thrillingly ambiguous subject. So what are sexologists talking about when they talk about sex? Sure, occasionally it's about toe-twirling jollies. But more often it's about unfixing society, questioning its default settings by proposing new ways of thinking about the mind (Freud), gender roles (Marie Stopes), social structures (Margaret Mead), normalcy (Kinsey). The exhibition is full of implausible apparatus (much dick accessorising: tortoiseshell for pleasure, metal-toothed to prohibit single-handed fun), and also charts in which people record their own and others' sex lives. The most elaborate is Carolee Schneemann's 1960s-70s art project, each casual bunk-up producing a box-filling cavalcade unspooling across the wall, distinguishing between orgasm noises including howl, moan, growl, cry, 'oooo'.
Many of the ologists attempt to unmoor sex from shame. Human experience, they suggest, defies theories and categories: see the resplendently moustachioed Victorian chap posing in lingerie. Deviation at the margins isn't always delicious. A spectacularly glum photo shows Radclyffe Hall (The Well of Loneliness) and her partner Una Troubridge, unsmiling under stout coats, big hats and a pair of dachshunds wondering if fun has been cancelled indefinitely.
Back at Accolade, what does Will Trenting want from his sexual other life? Not merely, it is suggested, sex. He may get sportive in Rotherhithe with Phyllis and Harold and Ed and Joan, but binging on booze and bodies crucially represents a chance to leap the fences of class-bound Britain, to hang loose and play hard and not be only his respectable self. Sex – his Rotherhithe life – represents a chance to be both who he feels he really is and who he doesn't have to be.
I love a slice of Rattigan, a dollop of Coward – but look at what Accolade doesn't do. It doesn't use English place names (Budleigh Salterton, Leamington Spa) for comic effect. It doesn't drag in servants and stuffy bourgeoisie to set off the protagonist's heightened sensibilities. It doesn't bluster, it doesn't sneer. You feel that you've spent an evening with people, not avatars in period dress. Accolade includes a singular blackmailer – especially in Bruce Alexander's spectacularly seedy, needy, beady performance. It is initially uncertain what Daker (whose underage daughter Trenting has fumbled) is pursuing: money, revenge, some free literary consultancy? Gradually it becomes clear that he doesn't so much want to hurt Trenting as to inhabit his life. The public persona that William longs to escape is everything that Daker wants to pull tight around him. Accolade is never dishonest about class – abandoning respectability is as much a luxury for William as the booze and books. For most people, it's a shove into the cold.
Knuckle shuffling at something horrible
I didn't expect to be reminded of Accolade at Nothing by the excellent young company Barrel Organ. An interweave of eight monologues by Lulu Rackza – spoken by different members of the ensemble and in a different order, at each performance – it also circles around sex, and work, and what the world expects of you. For these snarling, witty, wounded people in their twenties, everything is drained of satisfaction: the sex is disconsolate porn-goggling, the work too dull to describe, the expectations low as can be. The girl on the bus is an accidental hero, the angry drudge a self-damaging vandal. Coming of age in austerity, in capitalism's long grey twilight, there is nowhere for these speakers to place their desires and fury. The performance was a small room full of forlorn conversations, turning hurtfully upon their speakers. When they talk about sex – mostly solitary, bored nights knuckle-shuffling at something horrible – they don't speak about desire, but a void where they hope desire might flourish and sustain them. Sex, shame, desire and damage – Williams might recognise it all, 60 years on.
Images: top, Alexander Hanson and Abigail Cruttenden in Accolade (Photo: Tristram Kenton);below, bronze porcupine from Freud's desk, representing the prickliness of human relationships (photo: Freud Museum)
Follow David on Twitter: @mrdavidjays