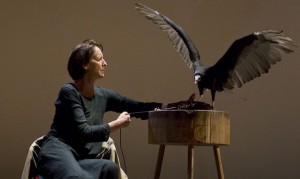 A comment on the Guardian's review of The Testament of Mary, currently at London's Barbican, described Fiona Shaw's performance as '19th century' in style. I'm not sure the term fits such an arrestingly contemporary performer – I suspect they just meant 'big'. Which it no doubt is. Shaw, like Simon Russell Beale, whose King Lear in London was recently broadcast in the NT Live series, is a singular performer, whose fine-honed sensibility and gleeful theatricality create portrayals that anchor a production.
Why bracket Shaw with Russell Beale? They are distinctive, because they can never not be funny – however much a play might seem to strangle laughter. They use their wit to delineate its limits – to remind you that what they're nervously joking about is the least jolly thing in the world. King Lear and The Testament of Mary are cases in point – Shakespeare's least consoling tragedy and the sorrow at the heart of the Gospels – but in each, the star finds a piercing comedy, which offers perspective and provokes despair.
'Star' is an uncommon word for serious actors these days – too shallow, too elitist, especially as directors are credited with a production's shape. But it fits these two perfectly – they're charismatic monsters, magnets for attention, whose mannerisms enchant and, for some, repel.
They were both pegged for comedy early on. As a pup, I saw their early performances – Russell Beale as a hapless, filthy innocent out of his depth in Howard Barker's ferocious rewrite of Women Beware Women; Shaw, plushly troubled in The Rivals at the National. Both went to the RSC to snaffle on comedy – his fops, her sharp-tongued broads – before scoring darker stuff like Electra and Richard III.
Even when playing a tyrant, Russell Beale (SRB to devotees) uses wit like a beesting – it harms the speaker as much as his target. His latest role, like his Leontes and Stalin, is a self-harming despot. As Lear, he illustrates the theatrical saw that what helps you play a king is not your behaviour, but everyone else's. His first appearance – staging the doomed love-test as a kind of show trial – is greeted with hideous strain by family and followers. The downcast eyes and tense attention suggests how they fear his flying off the handle – indeed, he will rattle off the ranting curses at a speed beyond thought. But even here, his inflections are skewed comic – even if the only person he's amusing is himself. He stomps up close to Cordelia and pincers her cheeks. 'Better thou hadst not been born than not to have pleased me better,' he says, and laughs, delighted at the paradox. It's the grotesque joke of someone who doesn't realise that people will soon stop laughing along.
Sam Mendes' production, though on a bombastic scale, is utterly focused on character (even tiny roles like Daniel Millar's Curran get a through line from cheeky sneak to abashed virtue). Everyone treats Lear like a king; when he sloughs off authority and they stop, he doesn't know how to treat himself. He blusters, founders, eventually becomes ineffably sweet. The furious spume of speech slows. He thinks. Russell Beale's voice, with its sudden wheels and drops, gradually unspools humility in short velvety skeins.
Shaw's voice has its own plangent edges, alternate quizzical or furious. Her stage persona is often that of abject entertainer: her Medea was a jokey gawk, the missus who kept dropping the balls and whom no one took quite seriously. Mary, too, is mistrusted by her son's dogged disciples (she prefers to think of them as 'misfits'). She elaborates Colm Toibin's text with little exhalations of laughter and whimsical incredulity. She's maternal, often domestic (Shaw does a lot of tidying and swabbing), but Mother of the revolution, Mama Theology? No. She rejects the roles, won't be beatific.
Before Deborah Warner's grave production begins, we're encouraged to browse around the stage – peering at lights, flowers, an impressively restless black vulture (photo, top, by Paul Kolnik). Shaw walks on to set things up, then settles in a perspex box, with drapes and flowers. She's made an icon, stippled with smartphones (which veer between her and the vulture). It's a sharp device: the play itself proceeds to topple iconography. Shaw is as ferociously and exact as the vulture. This is no gospel, but Mary's testament, her witness statement – her truth, not the truth.
It's a shame these actors have rarely shared a stage. They were strongly subdued as Portia and Cassius in Warner's Julius Caesar, lacking any scenes together; more recently, gleamed in the larky London Assurance (he a dandy upholstered in self-regard; she a horsey eccentric). Fun was had, but fun-plus is the thing they both do peerlessly – and I'd love to see them do it together. (Though in what? Private Lives? Ghosts? A contest, surely, as much as a compact). As Lear dies, and as Mary is condemned to veneration, something dims. Their wit is an index of humanity exploring its own limits.
Follow David at @mrdavidjays