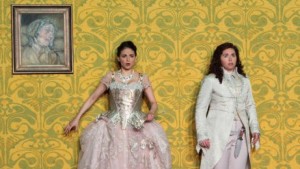 So, let's start with me. Spindly and saggy. Generously beconked, meagrely maned. A cavalcade of design flaws, a factory second at knock down prices. That's me. And to an extent, that's most of us. Even among critics there are eye-wateringly scrumptious exceptions (you know who you are), but in general, if they start hiring hacks for their looks, we're all in trouble.
Good looks and how to evaluate them has become an issue on stage with the unedifying row over Tara Erraught's appearance as Octavian in Der Rosenkavalier at Glyndebourne. It's a breeches role – Octavian is the likely lad who over the course of Strauss' bittersweet opera leaves an older woman for a younger one. The Irish mezzo has been castigated, not for her vocal performance but for her trouser-wearing skills: and as the castigation has come from middle-aged broadsheet chaps, it has been expressed with dismaying clumsiness (detailed on ArtsJournal by Norman Lebrecht). 'Unbelievable, unsightly and unappealing,' said Richard Morrison in the Times. 'A dumpy girl,' wrote Michael Church in the Independent.
Octaviangate conflates two separate issues – sexism and objectivity. The sexism we can deal with quickly – it's vile, especially when expressed with shocking coarseness. Men fat-shaming women – everyday sexism in Viennese waltztime. It's a poor attitude to life, let alone to music: nobody should give their review over to the peter meter. It also represents a dismayingly closed imagination. Your own standards of desire, your conventional ideas about what constitutes acceptable attraction – park them, and see the stage with an open mind.
Like most participants in this furore, I haven't seen Richard Jones' production. Nor has Dame Kiri te Kanawa, who deduced from photos that Erraught was unflatteringly dressed and perhaps poorly directed. Jones' productions often require a style between naturalism and grotesque – a kind of 2½D – and not every performer embraces it. Otherwise, an ardent but awkward Octavian makes perfect dramatic sense – there's a reason the jaded Marschallin fell for him, and his impetuous immaturity is surely more significant than a six-pack and skinny jeans.
Opera – in which identikit babeosity is less significant than vocal dazzle – should be at ease with the fully lumpy, bumpy gamut of body types. If there's a resistance, either from companies or their audiences, then there is indeed a problem. Pace Alice Coote, opera is a dramatic medium, not merely a musical one, but there's no reason why that should limit who gets cast. Dance, meanwhile, has its own problems – the fashion for an increasingly whittled, elongated silhouette must have an impact on the eating disorders that research exposes as shamefully rife in the profession.
Susannah Clapp, the Observer theatre critic, pointedly contrasted opera and theatre reviewing, noting previous flurries around casting that tweaked expectations – Judi Dench's Cleopatra (self-described as 'a menopausal dwarf') and Simon Russell Beale's Hamlet, castigated for his girth. His beautiful performance changed the parameters: subsequent Hamlet have been unexpectedly youthful (Ben Whishaw, 23), mature (Michael Sheen, 42) or unromantic (Jonathan Slinger). In the theatre, as in life, plump doesn't mean passionless; unconventional doesn't mean unloveable.
But but but… here is the second point: objectivity. Does this mean we cannot write about performers' bodies, as about any other aspect of their performance? Respectfully, yes, but dispassionately? Looking at the epithets slung at Erraught, most are unrelievedly grisly. But take 'stocky' – is that a slur?
When we watch a performance, we respond to physicality, and to its dramatic use. When I think of the great Timothy Spall, crowned this weekend as best actor at Cannes, I immediately see his scrub of hair, poached-egg eyes, full cheeks and beaver chops. It's a face of compelling magnificence, topping a body that is a squishy repository of kindness, concern, quiddity or despair, as the role demands. His eponymous performance in Mr Turner sounds like all of the above.
We don't want to judge performers by their looks (or to have critics writing, in Dan Rebellato's eye-wateringly blunt phrase, 'the entire review with your cock in hand'). But we need to be able to describe the unglamorous physicality of performance. Few actors – few people – look, as Seth Rogan says of his movie co-star Zac Efron, 'like gay scientists designed him in a lab.' Artists bring their bodies to the stage, every line of beauty or everyday curve. We respond to them not because they are hot, but because they expose the vulnerabilities and anxieties, the desire and self-loathing and fortitude. I couldn't do it. I'd be too scared. Actors, dancers and singers are putting their bodies out there on behalf of us all, and we need to find a way of honouring them with honesty and respect.
How do we write candidly but respectfully about performers' physicality? I'd love to read your favourite frank, evocative reviews and descriptions.
Follow David here: @mrdavidjays