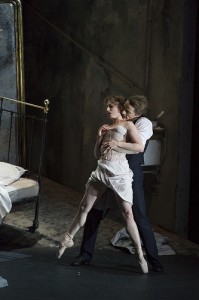 On a pedestal or on a slab – are these the default settings for women in ballet? A friend decided not to join me at the Royal Ballet yesterday. Having seen the ads for its latest triple bill, he feared that Sweet Violets, about the Jack the Ripper murders, would glamourise violence against women.
Every eminent Victorian bar Florence Nightingale has been suspected of being Jack the Ripper, and Liam Scarlett's ballet gathers many of them. The central figure is the painter Walter Sickert (famously the crime writer Patricia Cornwell's prime suspect). Also in the line up are Sickert's friend Robert Wood (later arrested but not charged in connection with the Camden Town Murder in 1907); Queen Victoria's dissolute grandson; Lord Salisbury, the Prime Minister; and a psycho hallucination called Jack.
Is Sweet Violets a rapey exploitation flick of a ballet? To be frank, its crimes are mostly against narrative coherence. I saw the one-acter during its first run, and was even more bewildered this time round. Scarlett makes lyrical abstract ballets and pervy story ones – as in his Hansel and Gretel, he's great at creating murky mood (especially to the vehement Rachmaninov score), but hasn't yet nailed a way to communicate motive without confusion.
The details are baffling, but you get the drift: Victorian prudery be damned. The men are all domineering hornbuckets, paddling greedily in lady parts. Even the Prime Minister marches into artists' studios or backstage at the music hall to rough up a tart. All the women give their best sluttish splaying, or strike an attitude known in classical ballet as 'fancy a jig-jig, mister?' We don't see anyone who isn't on, or at least in, the game: every woman is a model-hyphen-prostitute, dancer-hyphen-prostitute, madwoman-hyphen-prostitute. To watch Sweet Violets, you'd imagine that Queen Victoria was the only woman of her era not doing it up against a wall for thruppence.
Scarlett and his design team create a tense mood of toxic sexual relations, infecting the movement vocabulary – every time a man puts hands on a woman, to turn, spin or lift her, it looks like a power move. Every support is an attempt at control, every touch an unwholesome grab at flesh.
Wading through the guts of Victorian London, Sweet Violets works best as a fantasia of period misogyny. Try and work out who's who and why, and your brain will hurt. Most effective is Jack, Sickert's provoking hallucination (played with sickening sprightliness by Steven McRae). Sidling round corners, goading Sickert's mucky thoughts, he's the id of pure evil, and doesn't need to explain himself. The designs by John Macfarlane and David Finn inhabit a territory informed by Sickert's own smeary palette – muddled greys, muddied whites, livid gasps of scarlet.
So was my pal right to sit it out? The murders themselves are staged without lingering, and Scarlett's intentions are earnest, if over-insistent – he pushes heavily on the unbalanced sexual dynamic. His women frequently get down to their scanties, while men remain fully dressed for sex and violence. The Prime Minister merely rolls his cuffs back before smacking a drab. On a narrative level, the inclusion of members of the government and royal family makes little sense – but they're there, I think, to demonstrate how ravenous misogyny runs like a virus through the bloodstream of 19th-century masculinity. Who is Jack the Ripper? Victorian manhood, that's who.
Ballet should be in shoo-in for a feminist night out. So many women occupying centre stage, out-dazzling the guys. Not for them the measly dribble of cameo stereotypes – disposable girlfriend, careworn mum, random shag – dispensed by big and small screen dramas, or the Shakespearean heroines outnumbered by boots and breeches. Ballet is, by and large, all about the women.
Except that it isn't. It's not just that male dancers are getting some heat at the moment – bouncy boys like Ivan Vasiliev, Steven McRae, Vadim Muntagirov and Kimin Kim, the latest Mariinsky sensation. It's that wherever artistic directors and choreographers gather, you're swamped by Y-chromosomes. Women are still expected to adorn the stage – to dance and perform amazing, intrepid feats, but not to set the agenda.
There's something about that feeling in the Royal's triple bill – enjoyably diverse as it is. Balanchine was always a sucker for a muse, and Serenade, his lyrical first American ballet from 1934, fills the stage with romantic waft. Watching from above, you're reminded of his contemporary Busby Berkeley: not exactly hundreds of beautiful girls, but an awful lot, forming and reforming patterns – diagonals, squares, circles – like a kaleidoscope of swoon. Geometry meets poetry (not to mention biology).
Certainly don't want to disparage the compelling ballerinas. Lauren Cuthbertson and Laura Morera in particular dig forcefully into Sweet Violets. Christopher Wheeldon's DGV isn't my favourite ballet, but felt like a tonic to close the evening. After all that romance and rippering, how bracing to see powerful women claiming to the stage like Olympians. They shouldn't be the exception.
Main picture by Bill Cooper/ROH. Follow David at @mrdavidjays