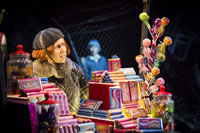 Musicals should have jokes and tap dancing. There, I've said it. I've long thought it, sitting in the dark while leather-lunged belters lay about with coshes made of bombast and earnestness. Jokes and tap dancing, people. Jokes and tap dancing.
Most musicals I see are for review, rather than on my own dollar. Partly that's because that dollar doesn't take you very far at West End prices (I will finally see The Book of Mormon this summer. Even with a special offer and thrifty seat selection, we'll be watching the action from, approximately, Ghent. Forget opera glasses, we'll need the Hubble Space Telescope and an ear trumpet).
But it's partly because – well, I have a problem. Musicals are supposed to be transporting, joyous and life-enhancing – rollercoaster rides through mirth and emotion. But aren't they often a bit, you know… stupid?
Now, silly is great, we love silly. The tongue-twister gabble in My Fair Lady or gunge-splattered daftness of Bugsy Malone – love 'em. Mooks fugueing through the racing pages in Guys and Dolls, shoreleave shenanigans in On the Town and the Sunday-best dating tips from Hello, Dolly! all raise goosebumps of sheer pleasure.
Stupid is different. Stupid is people stopping the show to self-actualise. Stupid is people yowling their therapy stories in a mid-Atlantic throb. Stupid is taking a messy, complex story and lighting it by the dimmest common denominator bulb of idiocy. For example: it has been two years but I have still not forgiven – will never forgive – the criminally idiotic Finding Neverland. Based on a vanilla movie dubiously treating JM Barrie's life around the creation of Peter Pan, it's not that it plays fast and loose with the truth – but that it took extraordinary truth and reduced it to utterly unremarkable fiction. Why insult one of Britain's magnificently weird writers with exhortations about finding yourself, a mendacious portrait of two marriages and the constant reminder that day dreams needn't stay dreams? When Captain Hook – Hook! – adopts the role of life coach, all is lost. I read periodic reports of this musical's resurrection with the same alarm Van Helsing would regard news items about soil disturbance in Transylvania.
Musicals can distil human nature without insulting it. The jokes can be black as pitch, the tap dancing can be sardonic as you like (looking at you, Mr Sondheim. With a martini and doe-eyed adoration). If the dancing is in a show by Kander and Ebb, it will like as not portend the rise of Fascism (Cabaret), a corrupted judicial system (Chicago) or the brutal sump of segregation (The Scottsboro Boys). As for the jokes, they can be rueful and ambiguous – as in London Road, the inspired 'verbatim' musical by Alecky Blythe and Adam Cork which builds funny, poignant and troubling chorales from interviews with neighbours of an Ipswich serial killer.
Most musicals I love are about adults bumbling through adult dilemmas – how to build a career, satisfy desire, sustain a marriage, treat a pig (thank you, State Fair). I didn't see either of the prematurely-ended shows by former megamusical icons Andrew Lloyd Webber (Stephen Ward) and Tim Rice (From Here to Eternity) – but perhaps they failed in part because infantile is an easier sell at the moment? Wicked, Legally Blonde, The Light Princess and Charlie and the Chocolate Factory (pictured above by Johan Persson) – like many ballet companies seeking to extend the repertoire, producers seem in thrall to the family market. Escapism is great – but there are other escapes than into the candy-coloured world of stupid.
Even a grinch knows that musicals can hit you where you live – and where I live, experience suggests, is a secret yearning to believe in undiluted happiness. I watch sad with the 'what-did-you-expect?' shrug of an Old Testament prophet, but there's nothing that disarms a born pessimist than people armoured in radiant good cheer proclaiming that everything will be alright. During a rather fraught period a few years ago, I saw A Funny Thing Happened on the Way to the Forum – and simply being told that it was fine to postpone tragedy until tomorrow and to permit comedy tonight released grateful tears. At that moment, it was something I desperately wanted to believe.
Another thing about the musicals I love: they come from my parents', even my grandparents' generation. Nostalgia winds its tendrils around me. I don't feel this about Pinter or Miller, but with its sass and sentimentent – and its often disconcerting unsentiment – the American musical is the great Jewish art form. Sorry, novelists, but there it is: an art that stages the frets of mid-century America in an idiom of sweet and salt. As someone cracks in the Tin Pan Alley comedy June Moon by Lardner and Kaufman: 'If song-writers always wrote about their home state, what a big Jewish population Tennessee must have.'
The musical I've loved most in recent years was built on spats, buttons and the helium puff of delight. Lupino Lane's Me and My Girl is a piece of 1930s froth which plays British class conflicts for silly-ass giggles. In a blissful production at the Crucible in Sheffield (makers of the very best in musical entertainment), it was an utterly happy show, unclouded by thought, reason or much recognisable human behaviour. But it was full of songs my grandmother loved, and of things working out for the best, and that combination meant I sobbed myself stupid from beginning to end. When the cast observed that the sun, contrary to expectation, had its hat on, I cried so much the woman next to me looked over with concern, but it was fine. Entirely the right kind of stupid.
Follow David on Twitter: @mrdavidjays