Antonio Vivaldi came to prominence on the coat tails of Johann Sebastian Bach. This was a favor returned, as Bach's own style went through a metamorphosis with his discovery of the Venetian master's brilliant energy and rational, transparent, and effective form. Everything in Bach evolved, from harpsichord music to extended arias and choral writing. So, when the Bach Gesellschaft published its volumes of concertos, the Vivaldi works most influential on Bach were included. Today, Vivaldi is recognized as the master of the violin concerto and composer of The Four Seasons.
Stravinsky accused Vivaldi of writing the same concerto several hundred times. This is a misunderstanding of the music. Not only are Vivaldi's concertos remarkably varied, they are beguilingly unpredictable. A musician must carefully count measures otherwise he will almost always play at the wrong moment! As natural and symmetrical as a work might appear, Vivaldi plays with phrase lengths and confounds our expectations. This is part of his genius and makes for concertos, if sensitively performed that are never dull.
Until recently, Vivaldi's best allies believed that his genius is most completely illuminated through his instrumental music. Now, with the exploration of his theater and church music, and with a better understanding of his difficult life, so much of it in the theater, we know that his vocal music gives the most complete picture of his brilliance, whether opera, oratorio (for mostly female forces written for La Pietá), mass, psalm or motet.
He is like a Venetian painter in expressing texts through music using a large palate of string textures and colors and, when possible, an even larger one of instruments! When you listen to his dramatic motets, written most probably for the Giró girl (compelling singer and sister with whom he lived most of his mature life creating quite a scandal), you can enjoy the pictorial writing expected in Summer of The Four Seasons. Cascading scales, barking repeated notes, zephyr like triplets moving in warm, coordinated grace, joyful leaps and arpeggios. Then he adds the voice, more amazing than any violin solo, bursting in energy of virtuoso expression and athleticism.
The six sonatas for harpsichord and violin by Johann Sebastian Bach are landmarks. They are the first works written in which the harpsichord plays an equal role to the violin. Telemann, Rameau, and Mondonville follow suit immediately but without knowledge of Bach's sonatas. However, with his training as an organist and his family of keyboardists, Bach valued the qualities of the harpsichord and its possibilities in both chamber works and in concertos.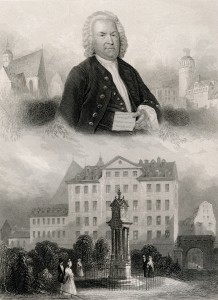 The brilliance in this collection of six sonatas is the level of composition represented by each and every movement along with the variety of character, the difference in spirit from one sonata to the next. Whether he calls upon the Italian ornamentation à la Corelli in the E major sonata, the joyful German toccata writing in the G major, the graceful bucolic spirit of the A major, he gives each sonata its dramatic and expressive character making it impossible to favor one over another. SO if I say now that the F minor sonata is unique and particularly powerful and beautiful, you must realize that I would say this about any one of the six being performed.
The F minor sonata is unique and particularly powerful and beautiful. It begins with the harpsichord alluding to an ensemble of oboes and continuo. There is something haunted and uneasy about the long introduction before the violin beings its arioso reminding us of the St. Matthew Passion. As the harpsichord simmers, the violin weeps, wanders and questions. The text is invisible, but the emotional intention is tangible.  The third movement adagio reverses roles and the violin plays a progression of exquisite chords while the harpsichord elaborates with flowing 32 notes always reminding me of fallen leaves being blown here and there by the late autumn wind. It is equally beautiful and melancholy. The two fast movements find Bach at his most irritating! Uncompromisingly contrapuntal with serpentine and unruly lines, the hands are twisted into knots of anger, fear, growling, with only one or two glimpses of relief. In the final movement, Bach forces the keyboardist's hands into positions on the accidentals (flats and sharps) that feel as if he is treading on narrow ledges above pits of smoke and fire. This is Baroque music, Baroque expression, Baroque demand, and Baroque genius.
Johann Sebastian as a naïve composer? It is every harpsichordist's delight to play one of Bach's earliest works, a colorful scene for harpsichord. This capriccio takes its inspiration from Kuhnau's Biblical Sonatas in which the older composer selects scenes from the Old Testament and creates musical tableau vivant. Bach follows suit in this scene of imploring, lamentation, resignation and jesting. The writing in the touching first movement is kin to the music for two recorders in Bach's touching, early Actus Tragicus cantata. And though the final fugue cannot stand comparison with mature works from the Well Tempered Clavier, Bach's ability to use the post horn motif as a counter subject shows him as a master, capable of bending textures and rules to his witty inclinations.
Both abstract music of meditation and picturesque moments are the remarkable world of Heinrich Biber in his Rosencrantz sonatas, scenes and musical prayers of the miracles of the life of Christ. Biber was the most astounding German violinist of the 17th century, incorporating all the fire and imagination of the contemporary Italian fiddlers but adding to it a seriousness of thought typical of German art. Audiences are still thrilled by his surprising choices and powerfully evocative writing nowhere more remarkable than in his depiction on the Crucifixion.
Unlike Bach, George Frideric Handel did not rely on printed volumes of Italian music to know and incorporate Italian style into his own. At a young age, irritated by accusations of mediocre melodic skills mostly by his critical friend Johann Mattheson, Handel moved to Italy. In little time he was working alongside Alessandro Scarlatti (voice) and Arcangelo Corelli (violin). Shortly after, with the composition of cantatas and a few operas under his belt, he was recognized as the greatest composer of Italian opera and brought this reputation to London where he became the hero and patriarch of British music. Handel was a man of the public theater, understanding the qualities and needs of singer, text, and orchestra. More important, he was an entertainer and sensed the changing passions of his audience. Without compromise, he honed his product to respond to the interests of England, ultimately leaving Italian Opera Seria and settling into English sacred oratorio, fitted for the concert hall.
But there is something that sets Handel apart from his models and followers in mid 18th century opera the way Mozart stands so inexplicably high when heard alongside Paisiello and Cimarosa. These others, including Hasse, Porpora, Leo, write melodies as delectable and vocal music as idiomatic but Handel and Mozart enter the spirit of a character in such a way that beauty and motivation, elegance and empathy come together and give us, the audience and performer, the opportunity of KNOWING the person, glimpsing the heart and mind under the surface melody. This insight, akin to the vision of Freud and Shakespeare, allows Handel to give us Cleopatra and Miriam as if they have been transported. They stand in front of us today to tell us what they have seen and have known.
Andrew Appel