We made a final turn off the highway to a country road. We had been driving for an hour, had stopped at a Tex Mex roadside restaurant, and then watched as the highway modulated from urban sprawl to desert austerity but we were not prepared for the romantic vision as we made this turn. The road lead us towards a stone church to the left and a very large, square, silver-stone house surrounded by trees and a few outbuildings. Other than these buildings all we could see was a landscape of endless acres spotted with cactus and clumps of trees. "Do you think that's where we are staying??" As we reach the high gate to the property, the GPS announced, "You have reached your destination. " We dialed in the passcode and the gates open.
Soprano Dominique Labelle has joined the Four Nations Ensemble for two concerts in Fredericksburg Texas. Though we have heard of the qualities of the town and the hill country around it, we weren't expecting the beauty of morning noon and night, nor the warm reception and appreciation that the next four days would bring.
Texas is gifted in offering the unexpected and extreme! My first two-step with the state came when I was a grad student at Juilliard holding a job at Sotheby's auction house to make my preludes and codas meet. A Sotheby colleague wanted me to play at her wedding service in Amarillo. She needed 10 minutes of music and flew me down to do it. I stayed with a woman who looked like a Whistler portrait and lived in a French Chateau in the middle of town close to streets, schools and public parks that sported her family name. The rehearsal dinner was at a ranch famous for its eccentric owner. All invited women were in extravagantly beautiful dresses and the men sported French or English suits and cowboy boots. The backyard was divided up with metal fencing. On one side, closest to the house were the wedding guests looking at the hors d'oeuvres, on the other side were 15 to 20 baby lions looking at the wedding guests. This may not impress you, but for a New York kid it was dazzling.
A decade later I brought the Four Nations Ensemble to Amarillo for a one week residency in a public school creating the model arts in education program that was adopted by the Symphony and run for years. During that time I met with a woman who has since become one of our Ensemble's most important patrons. She and her husband lived in a Tudor style home from the 1920's, emblematic of American comfort and success with one exception. Sandra loves music, piano playing, and singing. She felt that the home needed a music room. She had been delighted with Catherine the Great's solution at the summer palace and decided to build a copy of it. Walking through her hallway reminiscent of Larchmont NY or Glen Cove IL, you arrive in a room with a floor of astounding marquetry, gold, white and yellow paneling, and a Hamburg Steinway waiting to be played under a grand chandelier. (Texans can have magical luck as well. One week when Sandra had moved the piano to a corner of the room, the grand chandelier came tumbling to the floor! Lots of shattered crystal but the piano unscathed.)
Texas is a state of extremes. On one hand we hear of an education policy prohibiting the teaching of "higher thinking" in public schools as it is an affront to long held traditions and parental authority, and on the other, Austin has three Guttenberg bibles, Houston has the Rothko Chapel, Dallas had the opera company so dear to Maria Callas. Countless great musicians call Texas home. There is no state that can boast so healthy or generous a philanthropic community.
So, we find ourselves now entering a world that reminds us equally of the movie GIANT and an ancient domaine in the Perigord. Our maître d'hôtel, a talented interior designer who decorated this home and many other properties, on occasion serves as cook and social guru for the couple who are our hosts. He is our caretaker for the weekend.
There is much to tell about the restored sheep barn, now beautiful concert hall, gallery and party pavilion; the 1830's main house, restored respectful of its history and original proportions with a wing added for modern kitchen, grand bedroom and dining room; the dining room made theatrical by painted scrims from a New Orleans theater and spider web delicate lighting to make everything shimmer; the outbuildings (hen house, ice house) turned into guest quarters with kitchens stocked with everything and more; the landscape more exotic and haunting (made so at night by a wind that never ceased to moan and howl) than any seen in either painting or movie about the American west.
There are four ranch dogs. They spend the night patrolling the perimeter of the property making sure that uninvited critters don't invade. Though not yet in evidence, I understand that the landscape is spotted with rattle snakes in the late spring and summer and wonder how the dogs know which critters to bully and which to respect. At night Loretta and I sat on our stone porch looking up at the stars and out over the fields. Every few minutes one of these dogs would walk up to us from the dark and request petting and then disappear into the dark. After a half an hour I shined a flashlight to notice that seated equidistance from us and from each other were the four dogs, protecting and guarding our guesthouse. Ranch hands.
Our hosts, two couples who planned everything, had scheduled one dinner after another to keep us in the spotlight. Sandra's dinner, at Boot Ranch where we would spend our last two nights, had us wondering why there were so many forks lined up by our plates until we realized that courses were simply not going to stop, each one more delicious than the one before.
Oh yes, there were concerts! The Fredericksburg music club run now by Mark Eckhardt has been in operation for 75 years. Similar to the small city academy of the 18th century in France and England, and the Collegium of Germany, this organization has been bringing performers to Fredericksburg and supporting music making in the town. Today, our hosts are in the process of building a concert hall for the community. Our first concert was a benefit, in the sheep barn, for this organization. Bathed in sunshine, the barn overflowing with white tulips and ranunculi, the patrons were fed Couperin, Purcell, Geminiani, Clérambault, French wines, and fresh salads. They listened in active silence.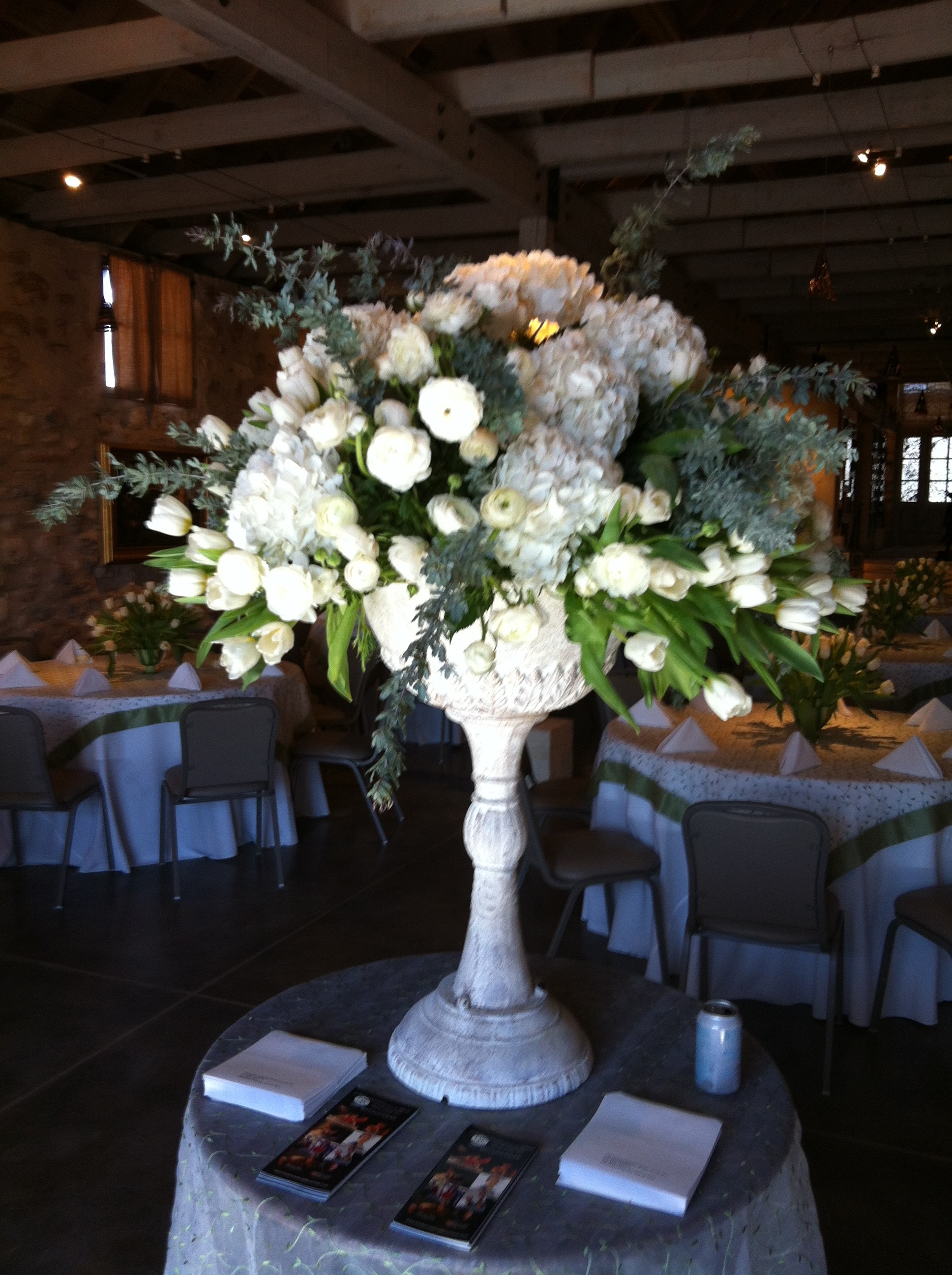 The public concert, a program of Baroque masterworks demanding for us and for the audience, boasted a full house. These audience members, unlike our hosts, were hard pressed to offer larger donations than $5 to attend the performance. Mostly elders on fixed incomes, they listened and loved music that was unfamiliar. Dominique, Loretta, Tanya and I were delighted with our treatment: Respected as artists and welcomed like friends! It was natural to be able to put out our best performances when made to feel so happy.
And what of differing politics you ask? Yes indeed, we were in the world of mostly longtime Republicans and we are all old time Democrat liberals. But when people respect and even admire your humanity (each and everyone of our new friends would be delighted to dance at David and my wedding), it is so easy to talk over differing views and learn from each other. When opposites respect, then they attract and on several occasions we engaged in talks about the economy, education, foreign affairs, that were more than civil…they were enlightening.
One last thing about Texans. There is an artful cheerfulness and allegresse to be enjoyed among them. This behavior is not unconscious. I know that each of our friends lives a real life marked with sadness, disappointments and painful events yet, they decide to live in a world of gratitude, active charity, and endless celebration. The Four Nations Ensemble will make every effort to infuse our Prestos and Allegros with Hill Country vitality and warmth.