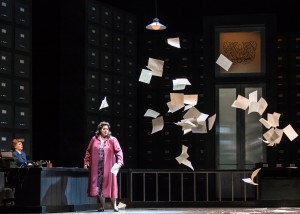 Photo credit: Elise Bakketun; Marcy Stonikas, Sarah Larsen; Seattle Opera's Consul
A lot of ink has recently been spilled about the demise of opera. Audiences are supposed to be drifting away; the number of subscribers is dwindling; people generally are not interested in our art form; all is gloomy, and opera has been described as being pushed off a precipice by public disdain and disinterest.
Based on my experience as a General Director of a major opera company for thirty-one years and in the business of opera one way or another since 1965, I disagree. I have often said that the tradition of opera lovers looking backwards to seemingly rosier times caused our ancestors at the first performance of Monteverdi's Coronation of Poppea, in 1642, to tell their friends that if they thought this was good, they should have been at Orfeo some thirty-five years before. They also probably complained about so many older people in the audience, reasoning that the new art form was headed for the dustbin. It certainly wasn't true then, and it isn't true now.
The United States (and most of the world) has been through a terrible Recession. Most opera companies had to cut back on what we intended to do; if we didn't and still kept producing at the same level, we would now be in financial trouble. At Seattle Opera I told the audience that we would reduce the physical productions but never skimp on the singers or music.
Did we lose subscribers? Yes. Did we lose single-ticket buyers? Yes. But have these lost, vital members of our audience begun to return? Absolutely. We have worked hard to encourage them both by keeping up artistic standards and by intriguing them with new ideas. They have responded in every way. We have fewer subscribers now than we had in 2008, but this year our subscription renewal rate was the highest since 1998. When bad economic times hit–and I have seen quite a few blips since 1983–I would say that considering the severity of this crisis, we have found the audience coming back at a surprising rate both as subscribers and as donors.
The age of the audience is, as I suggested, a shibboleth that has been around forever, and it is very explainable. When men and women get married and have children, they don't have the time or the money to buy opera tickets. When they are older, they can more easily afford to come to the most expensive artistic entertainment that exists. If we look back at the early 80s, the audience at Seattle Opera was older on average than it is now. This improvement has come from a vigorous educational program. Schools rarely expose their students either to orchestral or vocal classical music, and it is up to us to do the job. Our education department is twenty-five times more effective than it was when I came. At Seattle Opera in fiscal 2014 we had over 500 education events to all ages, from Kindergarten through retirement communities, all of which encouraged people to discover and explore more about opera.
Marketing uses every possible avenue to attract audiences. Though newspaper advertising is still important, our company uses social media extensively. It isn't my area of expertise, but we have very aware men and women to keep us up-to-date on Twitter, Facebook and whatever new kind of social media is popular.
Seattle Opera's board is very active in overseeing our financial condition; the finance committee meets frequently, and we have to present budgets that are balanced and that work. No one on our board has ever tried to get into artistic decision making; they leave that to those of us who are hired to do it. But they require us to be financially realistic.
I believe that one of the ways to keep an opera company in good shape is to keep the public informed of the opera's financial situation. In the darkest days of the Recession, I made a series of talks in public and on our website explaining what we were doing and why. I have no idea if they helped, but at least we took those interested in Seattle Opera into our confidence. When we then asked them for help, they knew what we were doing to keep alive.
In an earlier blog I pointed out that if since 2008 Dr. David DiChiera has kept a large opera company alive in Detroit, possibly the most depressed large city in the United States, any opera company should be able to do it. I still think that, and I know I live in a city that while it suffered in the recession has a lot of youth and vigor in its business and in such corporations as Microsoft, Amazon, Starbucks, Costco, and of course Boeing. Although the amount that each of these corporations contribute directly to Seattle Opera varies greatly, they employ lots of people who both attend and contribute. Still, we have had to work hard to keep and bring in new donors and have tried consistently to turn out a product that people really want to experience. We have, I think, stuck to our core beliefs, the most important of which is quality, and we have kept producing a variety of opera so that our subscribers would never get bored.
We still have financial problems and live very much on the edge; we are after all an opera company. I'm writing this at the beginning of fiscal 2015. Like all non-profits we start every fiscal year at zero. But I know that everyone who works for Seattle Opera, both our union and non-union employees want the Opera to continue and succeed. I further believe that as long as there are people who love the sound of the human voice, unamplified, and are excited by emotional music and live theater, opera will continue to be performed. We are the most expensive art form in the world, but we have the most devoted audience. To say that we are doomed is to forget or ignore how intensely our audiences love opera and how new audiences, if given the access, are moved by what we do. That love based on what Mozart, Verdi, Wagner, Puccini, and all the others have given us, plus a lot of hard work on our part, gives us an exciting future.