Wagnerian in the perfect projection of his bass bark, full of life and eager to perform like many Italian tenors, and nearly human in his understanding of the humans around him, Count was an amazing dog. A Labradoodle (half Labrador and half poodle) he was above all sweet. I have had more than a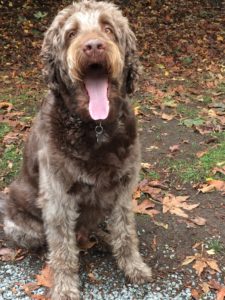 dozen dogs in my life, and never has there been one so consistently sweet.
Throughout his nine and three-quarter years of life, I never saw him once become angry with other dogs or people, even joggers who suddenly appeared, though those on roller blades did get a bark. He was never expected to be a watch dog, but the sheer volume of his unforgettable bark when anyone came near our front door certainly frightened off any potential intruder, not to mention UPS and Fed-Ex reps.
We have three Labradoodles; of them Count was my son's dog whom he trained with such care that Count never needed to walk with a leash. Whenever my son arrived home, he ran to him; my son Speight was his lodestar. Count was so well trained that he stopped at every street corner and never did anything risky. He traveled with my son as far as Georgia, with plenty of stops in between, and in Seattle accompanied him on countless outings.
I should add that because of his color my son named him Count Chocula after the cereal; though his personality did not suggest either the Conte Di Luna or Almaviva, I always called him "Conte" to put him in an operatic if not appropriate context. Including the day he left us he never lost his appetite and relished every scrap he could beg or discover, in addition to reveling in his regular food. The same was true, despite my best efforts to the contrary, with rain water, collected on streets or in puddles, vintage wine to him.
Linda, my wife, loved Count as well, taking care of him, making sure he looked right, and welcoming him to her bedroom where he often slept. In his last days she sang quietly to him sometimes for hours at a time to take his mind off the pain from his cancer.
From about the age of two he walked four miles with me every morning (I clocked more than 6000 morning walks with Count, missing only when I was out of Seattle) and at least a mile or two over the last year or so until his last few weeks. In most of his life he loved to run and never tired of returning thrown balls, stopping only when I gave out.
Why else do I call him so remarkably sweet? He never manifested anything but love to all those who approached him. He tried in gratitude to lick the hands of anyone who offered him treats, winning friends even from those who are not drawn to dogs. His size notwithstanding (he weighed about 90 pounds) his demeanor was such that no one ever shied away from him.
The malevolent cancer that took his life did not affect his personality. He was not only unforgettable but as close to the ideal companion as any dog could be. He left us on December 17, no doubt happy to forgo the pain he had experienced for the previous month. I am not a Roman Catholic but I will always be grateful to Pope Francis for saying, "Why not?", to the question as to whether there is a heaven for dogs. Requiescat in pace, Count, you will never be far from the thoughts of Speight, Linda, or me.