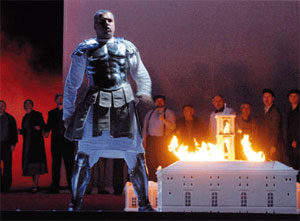 Connecting opera to current, particularly American political events usually doesn't work, and even more unlikely when the connection can be made, to an opera by Richard Wagner. Donald Trump has changed all that; in only ten days or so as President he has indicated a rather amazing parallel to the hero or at least to the title character in Rienzi, Wagner's first and now quite rarely performed success.
The story of Rienzi came from a book by Edward Bulwer-Lytton who wrote of the 14th-century Italian populist leader who achieved temporary political success. A foe of the establishment and a representative of the people, though a military man, Rienzi became for a short time the popular leader, opposed by the aristocracy.
 Wagner's libretto, as opera will, focuses mainly on the romance between Rienzi's sister Irene and the son of one of his patrician enemies, Adriano, but it does describe Rienzi's rise and fall. He promised his people much; his was supposed to be a democratic and fair government. Unfortunately, like so many others he began to see himself more and more as embodying the government and believes that his acclaim by the citizens makes him supreme.  The public eventually turns against him. His desires were originally honorable, but hubris takes over, and though he prays to God for help—one of the most memorable moments in the opera and one certainly the most performed—it doesn't help him. The citizenry burn the capitol with him in it.
The opera was the first Wagner opera attended by Adolf Hitler, who much to the regret of Wagnerians, fell in love with the music and loved Wagner's operas until his timely end. He never understood that Wagner was describing the overthrow of tyranny, not defending it.
The parallel to any modern situation in Rienzi has never occurred to me vis-à-vis the United States until the last ten days. Our new President, in carrying out what he said in his campaign, much of which was dismissed as talk, is doing exactly what he said he would do despite rulings, laws, and American tradition. His first moves were predictable though deplorable: moving to kill the Affordable Care Act without any substitute so that many millions would have no insurance, move against the environment in every way possible, offend as many of our allies while establishing a possible warm relationship with the one country that has been our opponent for most of the last seventy years, rate its dictatorial leader on a par with the democratic and responsible Prime Minister of Germany and, though the majority of people who elected him are suffering economically, create a cabinet composed almost completely of multimillionaires and billionaires. But now he has gone too far, as far as Rienzi did in ancient Rome.
In his decree stopping immediately all those coming from seven basically Moslem countries (modified blessedly by not excluding green-card holders) and proclaiming that immigrant Christians will be given preference to any Moslem coming into the United States, he has literally stomped on the graves of Thomas Jefferson, James Madison, the immigrant Alexander Hamilton, and all the other founding fathers of this country, so extinguishing Lady Liberty's torch. In choosing to exclude all immigrants from these countries without any consideration of their value to the United States or their reasons for coming here he has mocked not only our 240 years of tradition but mocked it by not including the three majority Moslem countries that have harbored terrorists or even mentioning Jewish immigrants from the countries he has banned. And why are the citizens of these countries given a pass? No one knows, but the evidence is so shocking that many dictators in the last century would not be so bold: he has hotels in those three countries.
 Our tradition of freedom guaranteed by our Constitution, our courts, our whole political history demands that this man be stopped. Ronald Reagan referred always to America as a city on a hill, a beacon of democracy and goodwill to the world. While we still have the power to object, to let our somewhat passive representatives in the Congress of the United States know that we will not allow our flag, yes the flag that he has the nerve to say must be revered, be dragged in the mud of intolerance, prejudice and greed. We have many more constitutional safeguards than the fourteenth-century Italians had and can check this man in a Constitutional way. But we must, I think, let our representatives in Congress in both the Senate and the House know that we demand from them a dedication to the Declaration of Independence, the Constitution, and the 240-year life of this great Republic.