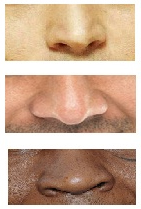 Before I knew her, Tina, one of my best friends growing up, was made to stand in front of a room full of her white elementary school classmates on a Connecticut school day.  In an effort to teach children about race, the teacher instructed the white kids, all sitting behind their desks, to look at Tina, who was Korean, standing in front of them, and to point out the things that made Tina different.  She did not then put a white kid up there and afford Tina the same opportunity.
I think about this story sometimes, which Tina sobbingly told me some time in high school, as I watch my daughter, whose birthfather is black, interact with the world of her two white dads.  We did not expect Cici to be half-black; the picture we saw of her supposed birthfather was of a large and woodsy-looking Irishman, flaming red hair and beard, green eyes, skin like paper.  When Cici came out, she was all red from the birth and then yellow from jaundice, a mop of black hair and flattened nose the only indications of what would eventually be revealed to be the truth, and for a while Seth and I, exhausted and overwhelmed from the experience of becoming new fathers, chose to believe Cici's birthmother's explanations that Cici had apparently just picked up a strain of Black Irish genes from the far side of her family.  Cici's eyes, then, were blue, and Jake Gyllenhaal kept floating behind my eyelids, so I let it be believed.
This all seems so silly now, both our denial of the reality and what I now see as an anxiety that she might not just be white.  As I watch her play, so beautiful, her curly hair a perfect synergy of her races, her skin like caramel, her nose still centered on her face but now far from being the only thing that might show her mixed heritage, I very rarely notice the differences except in moments when I am thinking about how to care for them.  We have carried forward over the past two years, stumbling and bumbling as she has become a young toddler with more cognizance of her world, to ensure that it is not as white as we discovered it to be when we looked through her eyes.
What I have learned is that I didn't know how monocultural my world was.  I apologize to any readers of this who aren't, you know, white and male, who find this particular revelation laughable–I get how obvious it may be, even as I hope you understand how surprising it was.  This monoculture, of course, holds no malice–it is simply the manifestation of a particular gravity that Seth and I now find ourselves pulling against clumsily, cultivating in Cici a love for Princess Tiana, integrating books with multicultural heroines into her overflowing shelves, preparing ourselves to think about what it will mean for Cici to become aware of her blackness in our household.
I am a WASP to my core, always searching for placidity, always folding up blankets and putting back toys at night, always fighting against entropy.  The indelicate intentionality of our efforts at diversification, the blunt-force nature of it, the fake-it-till-you-make-it-ness of it, pushes against my natural impulses. It feels obvious and pandering and clumsy, but we do it because that's how we learn to walk, clumsily.
In his essay "Notes from a Native Son," James Baldwin talks about discovering "the weight of white people in the world."  I don't think I really understood that quote–that whole essay, really–until we got Cici.  The pervasive weight of our views was not apparent to me until we were required to pull against them, the inertia that such weight engenders unclear until we attempted to change direction.  We carry forward in a mighty, invisible tide, so cozy as to only be apparent when you try to turn to shore.
It is at this same moment that the arts find themselves now.
"Should an arts organization that finds itself located in a more diverse community be expected to serve a more diverse audience?"  I asked that question yesterday on Facebook and Twitter, where it started some very interesting conversations.  Three times it was called overly simplistic or disingenuous.  It was not meant to be, but I take the point.  When pressed on the nature of the question and why it was problematic, those I was corresponding with stretched back to questions of mission, of the particular idiosyncratic nature of each organization, and of the danger of proscriptions like what I was proposing without taking into account the particulars.  I take that point, too.
But I asked the question because, as I continue to evaluate data for this forthcoming paper on the diversity of Bay Area theatre, I have been struck strongly by the homogeneity of the cohort, particularly when it comes to race.  It should be said that among the 25 companies I am looking at there are no truly culturally-specific theatres (because they had insufficient information in the various data banks from which I pulled to take part), but it should also be said that these companies do represent a strong cross-section of the type of work, structures, and sizes that make up the majority of the nonprofit theatre system.  They have differing missions, they exist in differing places, they do demonstrably different work, and yet when you graph their race/ethnicity diversity indices against the average US Census populations of the counties in which they perform, this is what you see (click for larger image):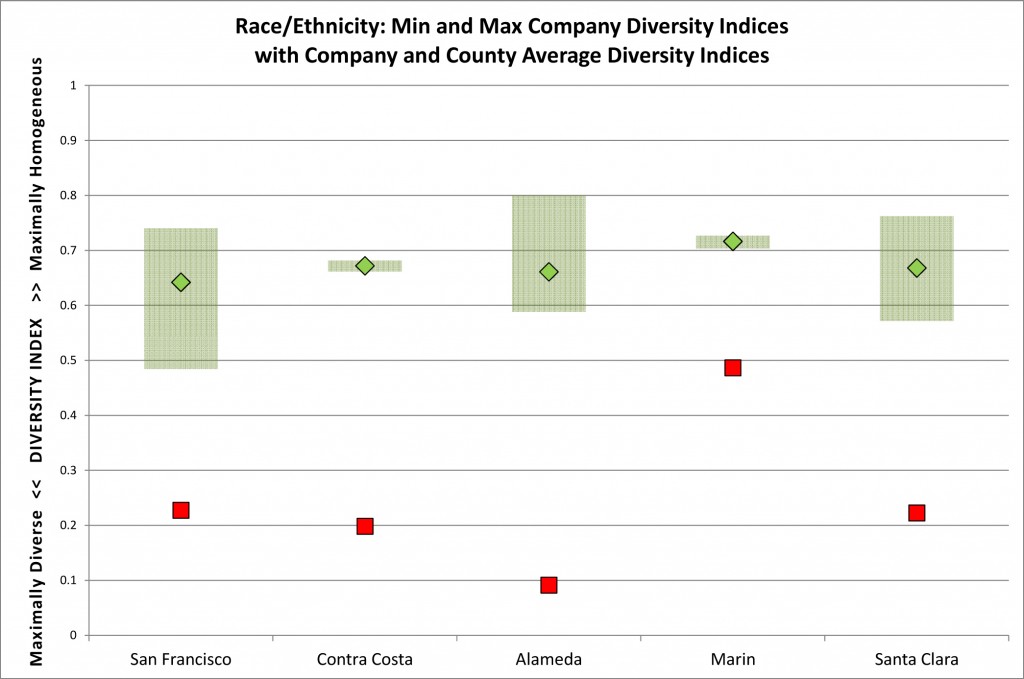 In this graph, the green diamonds are the average diversity index scores for the theatre companies in the study who perform in that county.  The scores have been normalized, with maximum diversity sitting at 0 and maximum homogeneity sitting at 1.  The green bars behind the diamonds show the spread–the maximum and minimum index scores achieved by any organization in the cohort.  The red squares, down towards the bottom, which is to say in an area that indicates markedly more diversity than the green things, are the diversity indices for the counties using data drawn from the US Census.
There is basically no difference in the level of diversity among the theatres' audiences across counties at all, even in the counties where the actual total populations are majority-minority.  More than that, in all counties even the best diversity score is still far from the county's general population.  On average, these twenty-five companies have audiences that are over 80% white in one of the most diverse regions in the country.
As one marketing director at a company in this study said to me, "Why is it useful to tell us what we already know? Do you think we don't know we aren't diverse?"
No, that's not what I think.  I think we know we serve a whole lot of white people, just like we know we serve a whole lot of older people, a whole lot of very educated people, a whole lot of wealthy people.
Last week, I wrote about "valuing" versus "managing" diversity.  This is a perfect example.  When I asked that question about whether companies in more diverse areas should be expected to have more diversity in their audiences, the answer was almost universally, "Yes."  We value diversity almost universally.
We get it, abstractly, the same way I understood that, as ambivalent about race as I was, as liberal as I was, I still wasn't really ever around people who weren't white, and that that might not be the best.  But it is not enough to simply understand the existence of disparity, we have to be willing to actually do something.  We have to understand the reasons why we can say "Yes" to my question and yet still make no functional movement forward on changing that.
The inertia of whiteness is strong and pervasive, which makes the problem relatively easy to identify and very difficult to consider tackling.  The monoliths that are our older, white, wealthy subscribers, many of which directly prop up our organizations and without which we would horribly destabilize, make thinking about the people on the other side of that monolith difficult.  The conscious effort required to attempt diversification, just like the conscious effort required to think about searching out new black friends with kids–a prospect which feels artificial and utilitarian, and which requires me to confront the laziness of my white reality–is tiring, even moreso for the fact that the benefits, if there are any, won't be reaped for a decade or more while the discomfort begins as soon a you take the first step.
I get all of that.  But let me suggest that we start here: when I ask the question "Should an arts organization that finds itself located in a more diverse community be expected to serve a more diverse audience?" do not immediately push back on me with a discussion of mission.  Do not immediately pull out culturally-specific arts organizations and how it would be unfair to ask them to dilute their missions.  Not to be indelicate, but do not suddenly be concerned for the welfare of the few organizations in our ecosystem that are functionally trying to get the art we love to people other than us, and that are given less attention (undeservedly) in almost all circumstances than their mainstream (white-serving) counterparts.
A mission is a driving principle, not a shield.  Unless your mission is "we make art for white, old, rich people," that pain you're feeling at the thought of diversification isn't mission-based, it's bottom line based.  A mission should not allow a company to opt out of serving a wide array of people unless the mission is to only serve a narrow range of people–which is, to point it out, decidedly not the mission of any of the twenty-five organizations in the study.
The art we make is local.  It is place-based, which means it is community-based, whether we want it to be or not.  As Catherine Michna points out in her wonderful essay on avoiding gentrifying art, bussing a bunch of white people into the Ninth Ward is not the same thing as serving the people of the Ninth Ward.  Fundamentally, a graph like the one above, where our theatre culture is just a large white smear across a canvas of many different varying shades of beige, is wrong, and is exactly reflective of the endemic problems of our field.
We are now, I would argue, past the time of "not my problem."  We will have an easier time changing direction if we all put our backs in to it, don't you think?