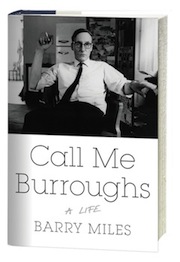 Continuing my immersion in Call Me Burroughs: A Life, the new biography by Barry Miles, I'm still marveling at the level of detail it offers. One small example: In a section called "Down Mexico Way," Miles writes that by the summer of 1950,
… Bill and Joan [Vollmer, his common-law wife] were living at Cerrada de Medellin 37, a third-floor flat at the rear of a run-down white apartment building in a small dead-end passage in Colonia Roma, behind the Sears Roebuck building. Jack [Kerouac] and Neal [Cassady] rented a cheap two-bedroom apartment next door in the same building [but as soon as Cassady left for New York] Jack gave up the room and moved in with Bill and Joan for two months, drinking and smoking pot alone in his room every day, trying to revise his first draft of On the Road …
I already knew of the neighborhood from Ted Morgan's 1988 biography of Burroughs, Literary Outlaw. So on a trip to Mexico City in 2007, I took a walk to see whether the building and the street were still there. It turned out that in more than 50 years not much had changed. Although the narrow passage had been gentrified and renamed …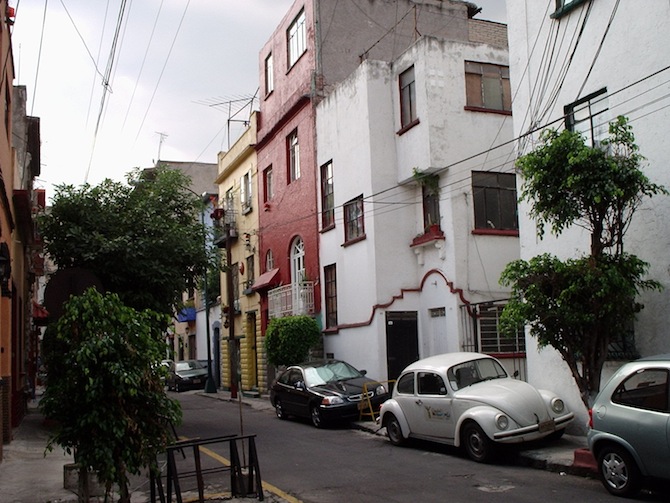 … the "run-down white apartment building" was right there looking like time must have stood still for it.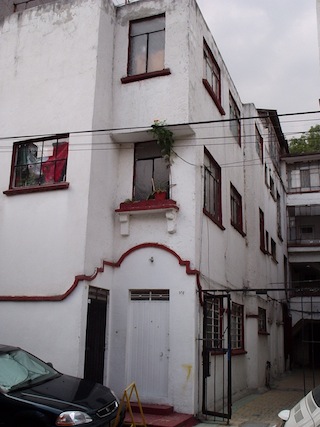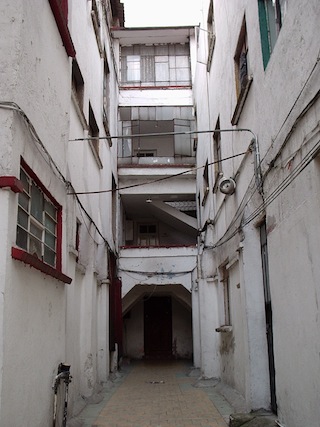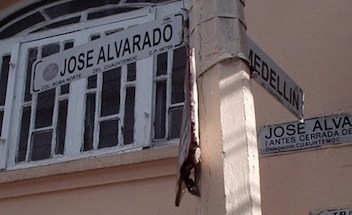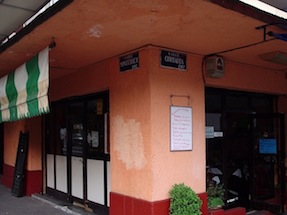 I took some photos, clockwise from far left: The run-down building where Burroughs and Vollmer once lived (the black door is No. 37); the beat-up courtyard was nothing more than a tenement alley; the pink-walled restaurant near one end of the street at Calle Monterrey and Calle Chihuahua had long since replaced the Bounty Bar, where Burroughs and Vollmer hung out with other American expatriates (it was a tidy little place in 2007 with cloth napkins on the tables, a hand-written menu hanging outside, and a sign inside noting that the bathroom was intended exclusively for patrons); the street corner signs at the other end of the street indicated that Jose Alvarado was formerly named Cerrada de Medellin.
Postscript: Aug. 21, 2018 — James Grauerholz took at look at the photo of what I thought had been the Bounty Bar and sends this correction with a clarifying photo:
That "corner café" at Calle Chihuahua is not the site of The Bounty … even if the signage of it does include the word "Abundáncia" and there's a promo card now, saying "El Lugar de los Hechos Famosos!" (or similar) —

The Bounty Bar was on the north side of the building's main entry that lets westerly onto Calle Monterrey.

I've demarcated clearly where American bartender Johnny Healy's apartment was — above The Bounty — the apartment in which Joan was shot.