The first time Auntie Foo checked in, an anonymous comment arrived with savvy guesswork about auntie's identity and some excellent info and illustrations about the art of collage.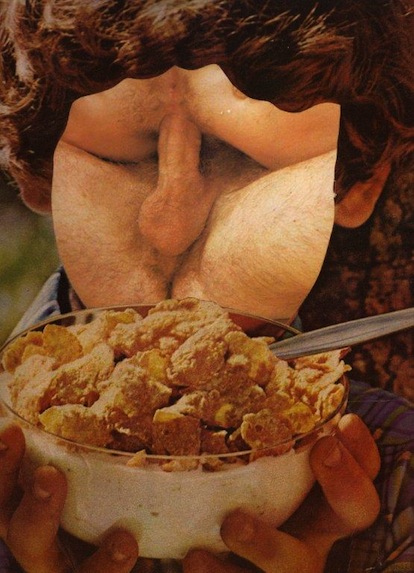 A bit of sleuthing revealed that the anonymous commenter was Walter Hartmann, an old associate of Carl Weissner, Jorg Fauser, and Jurgen Ploog, from their GASOLIN 23 years.
Auntie Foo is, of course, a nomme de collage. Hartmann's guess was, "mebbe i'm wrong BUT it smell a wee bit FLYPAPER, doesnt it? norm ogue mustill." My lips are sealed.
Meanwhile, Hartmann has followed up with incidental intelligence about collagists on his side of the pond who offer their own eye-poop.

He writes:
speaking of current youngster collagio, i really liked some of these Mario Wagner items & this guy Wagner a while ago did a 36pp postcard-size brochure for playstation tipped into VICE magazine (see his further clients works) … oh & i used to be a big fan of Neasden Control Centre, & in '07 i went to hamburg to see their expo in a small youngster gallery there… just loved their early collage work & crude drawings i found in their 1st book in 2003… meanwhile they too did lots of commercials/advertising (mtv, nike, volkswagen)… seems neasden started out as a 2-boy team in london, but for a while since then the stephen smith guy works with this anna girl & the collage thing stopped. it's funny how both wagner & neasden only use(d) old b/w '60s or '70s snippets in their work, no? and yes it seems quite a lotta those Youngsters Today show their freie kunst stuff in galleries & do commercial work for corporate clients…
Hartmann sent along a sample image from the first Neasden book, published in 2003 and now o.p. …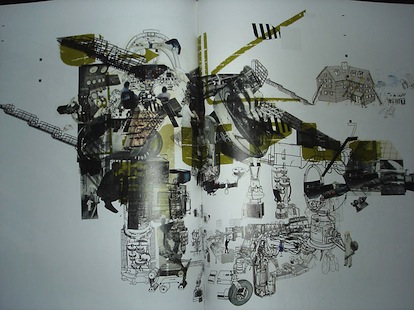 … along with the shots of several 1960 collages by J.G. Ballard's "old buddy Ed Paolozzi," taken from Winfried Konnertz's book on Paolozzi, published in Cologne in 1984 by DuMont. The one in the center "is fixing up mr james joyce w/ grete wiesenthal," Hartmann adds. "in the icy blackness of space…the ghost face of hannah hoech SMILES."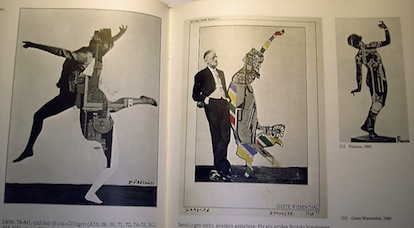 Hartmann continues:
oh and browsing for snippet gypsies minnits ago i just happen to find … these, using multiple cut-out layers on a pinup centerfold, posted by Mario Zoots at Society 6, and some really dressed down minimalistishe approaches posted by Anthony Zinonos, also at Society 6 … in short, KLEBEKUNST LIVES! no?
The dope on some of Hartmann's own work comes from another informant, who says that Hartmann and Gregor Pott recently did "an incredible translation job" on Mary Beach's Die Elektrische Banane. Described as a "two-fisted version," the book publishes the original Gothic Banana text in English along with the German translation. What will it take for an American publisher just to bring out the original?