By Jan Herman
Today, when the liberation of Auschwitz-Birkenau is recalled with "the mournful whistle of an imaginary [death] train," the little-known No!Art art of Boris Lurie looms like a signal from the remembered depths. See, for example, his "Red Shit Sculpture" (below), or "Immigrant's Box", or "New York-Rumbula" (bottom), or "Bowl of Chains," or his "Immigrant's Suitcase" series.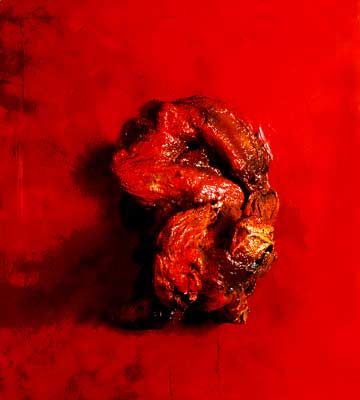 One terrible irony of Lurie's art is that it is "beautiful" in spite of itself, an aesthetic effect alien to his experience as a survivor of Buchenwald-Magdeburg and other concentration camps, where he was enslaved for four years and where human degradation knew no bounds. But Lurie has probed the human abyss not only with his art but with his words.
Here, for example, is the conclusion of his essay about vaporous girlie pin-ups for a 1960
exhibition,"Les Lions," which describes the Holocaust in terms most of us can understand:
The stray dogs in my backyard are perennially hungry. The Monster makes them act out their frustration through formal well-rehearsed action. The dogs beg: they throw their paws around wildly, they run around in circles. Then the Monster throws them some bones. The meat had been all but completely eaten away, but the dogs devour them greedily and fall asleep. And in their dog-dreams they imagine themselves as superb great masters, far away in time and space, performing never ending ritual gestures. But soon they awaken, and they are as hungry as before, and the yard is as dirty as before. I have a painting in front of me. Legibly printed on its right side are the words: Liberty or Lice
In German, I'm told, this passage is even stronger.
Hunde
(dog) has much more power, says my German-speaking friend Bill Osborne, "because it is a very strong insult."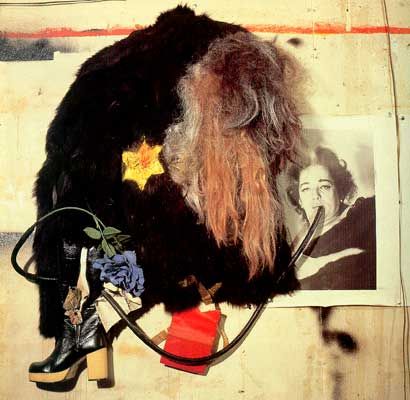 The idea, of course, is that "humans behave likedogs — clawing, shitting, wallowing in their own filth, devouring raw meat, bones and all."
Ungehauer
(monster) is stronger still, "because it refers to an entity that is undefinable, horrible, beyond description," Osborne adds. "It is a very German word, coming from a forest people's perception of something unspeakable in the darkness of the trees at night." And
verschlingen
(devour) is far more potent "because it describes the way dogs ravenously slaver over and swallow things whole like bones. The hard, guttural sounds and pounding rhythm of the words increase the starkness of the effect."
By a nice coincidence the Clayton Gallery & Outlaw Museum on Manhattan's Lower East Side is exhibiting some of Lurie's work in a group show that runs through Feb. 27 (161 Essex St., 212-477-1363). The other artists in the show are Mary Beach, Taylor Mead and Herbert Huncke.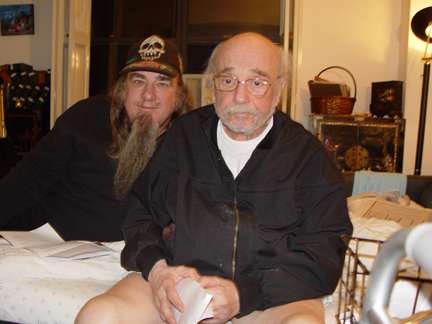 Postscript: The opening of the show was jammed. Gallery owner, co-curator (and, I might add, a warm and generous host) Clayton Patterson sent along some photos of the guests. Boris Lurie, left, couldn't make it to the opening because he was recovering from heart by-pass surgery.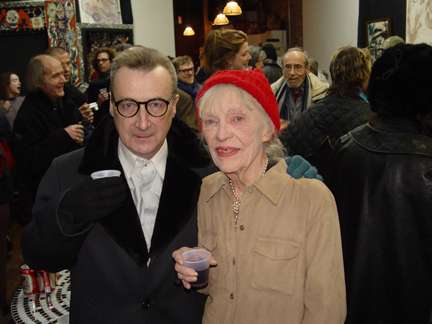 That's him sitting on the bed at home, with Clayton behind him. There's Mary Beach, right, with the writer Victor Bockris at the gallery.
Taylor Mead was having a ball prancing and dancing for guests who came loaded with cameras. Before the opening Mead and a friend were singing songs and strumming banjos at a party in The Pink Pony, a friendly neighborhood restaurant around the corner from the gallery. Come to think of it, Mead might have been playing a miniature guitar. There he is (left) at the gallery with the artist Andre Serrano (far left). Behind them are some of Mead's acrylics on canvas.