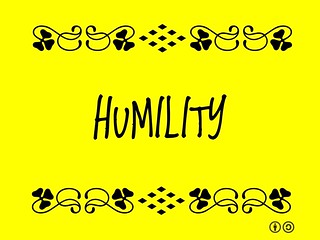 In my two previous posts (Deadly Sin: I and Deadly Sin: II) I highlighted the toxicity of arrogance and its devastating impact on the future of the nonprofit arts industry. I promised an antidote and that's why this post focuses on humility.
Why humility? Remember that to be/become sustainable we need to form relationships with many, many new people. While we may not have much experience in relationship building with groups, we all know that for individuals arrogance does not form the basis for healthy relationships. Indeed, the more we lay aside our assumptions in order to learn about someone else, the better chance we have of developing a friendship; hence, humility. For arts organizations there are at least two common blind spots that get in the way of approaching new relationships with humility.
Inappropriate Certainty
One of my favorite blog post titles of all time is "We Are from the Arts and We Are Here to Help." (Thank you Margy Waller!) The motivation to help and to do is commendable. However, when dealing with new communities it assumes a capacity to diagnose, prescribe, and produce in an unfamiliar setting that is impossible to achieve without considerable relationship building. It can also never be effective unilaterally. In any arts-community partnership, the arts organization has expertise in the art and the community is where expertise lies about its interests and needs as well as what works (and what does not) within the community. Program planning must involve both sides listening to and learning from the other.
The Cloud of Unknowing
"You don't know that you don't know what you don't know." This category of assumption is even more difficult to recognize and overcome. Here are just two examples:

The assumption that 7:00 or 8:00 pm is the best time to begin an event used to be pretty common, but if many members of the community you are trying to reach are second or third shift workers (a fact not known outside of the relationship-building process) your presentation will not be as successful as it could be.
Similarly, holding an event in "your" hall or gallery may be an unthought "given." However, without learning about the community you could not find out that many members might have extreme difficulty getting there or that the venue itself had profoundly negative historical connotations that would make people reluctant to attend.
Humility in these (and related) circumstances amounts to self-awareness that we don't know all the answers but that the answers are "out there" in the community. There is no substitute for the listening and learning that effective engagement requires and there is no substitute for effective engagement if we are to make our organizations viable for the long term.
Engage!
Doug