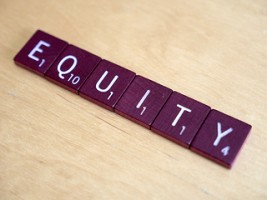 Last week Selena Anguiano (Benchmarking? Maybe Not) cautioned us about attempting to develop benchmarks for progress toward equity. She was responding to the announcement of the Community Engagement Network's next Conversation, Benchmarking Equity.
In her post I see her identify two primary problems with benchmarking. First, there is no one size fits all approach that's workable (no two organizations are even remotely alike) and, related to that, the process never ends. It shifts in the light of experience and changing circumstances. Second, the process of developing benchmarks can 1) reinforce hierarchical structures and 2) create even more trauma for people who already suffer from the impacts of inequity.
The intent behind the Conversation is to overcome the very real danger that the nonprofit arts industry's "equity statements" could easily become like the "thoughts and prayers" responses to mass shootings–worthy sentiments that lead nowhere. Without "feet to the fire" targets of some kind it's too easy to slide into the comfort of the status quo.
In the Benchmarking Equity discussion we are hoping to explore what categories of work might be appropriate for setting targets, how to determine timelines for progress, and whether things like percentages related to regional populations (as just one possibility) make sense. We will not focus on setting any specific benchmarks. At most we might identify generic parameters and timeframes that can be adopted/adapted when organizations are ready to begin the work seriously. (Of course, in the end, we may discover that it's not possible.) We also hope to discuss when an organization might be ready to try doing such a thing–many (most?) are not.
Ms. Anguiano's concern about the impact of such a process on those already suffering from systemic inequity is extremely well taken. Her raising the issue demonstrates the great value in having multiple points of view and types of experience represented in all our work. We will add this question to the discussion to see if there are ways to offer support or protection.
If you would like to participate in this discussion Friday, May 7 at noon EDT, information and a link for registration can be found here.
Engage!
Doug