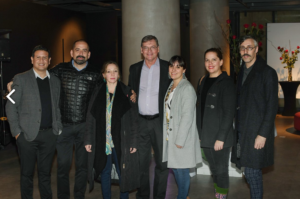 In June it was my privilege to be a presenter at the II International Seminar on Cultural Management at GAM Center for the Arts in Santiago, Chile. The focus was on territories (neighborhoods, regions, towns/cites) and communities and it provided me with a great learning opportunity to observe the practice of community engagement in South America. (There were presenters from Argentina, Peru, and Uruguay as well as Chile.)
As a result of the centrality of government funding, the emphasis in much of the work in the arts appears to be on developing connections with communities. (I'll have more to say about the positive–and negative–aspects of such funding in the future.) I learned of:
The consistent focus on connecting with individuals and groups who were not part of any typical "arts scene" was invigorating, if at times the means of connection might have been a bit . . . unusual.
Many thanks to the conference organizers as well as the participants for providing such a compelling learning opportunity for all of us in attendance.
Engage!
Doug