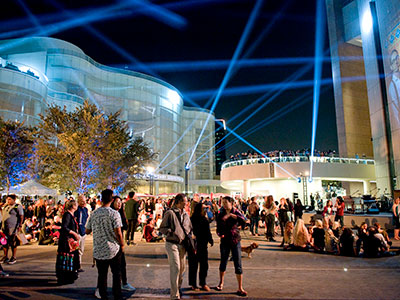 When thinking about arts organizations and community engagement, it is easy to get stuck on producer organizations–symphonies, theatres, dance companies, and (most of the time) museums. But there is another major constituency under the heading "arts organizations"–presenters, usually performing arts venues. (When museums host traveling exhibitions they are, similarly, presenters.)
I have spoken with staff members of presenting organizations interested in community engagement who lament the fact that they are not in a position to select specific works themselves. Instead, they have to book what producing organizations–touring companies or local groups–are offering. They believe producers have more flexibility in tailoring programming to community needs.
There is truth in that. At the same time, however, there are some ways in which the presenter is better positioned to support community engagement.
First, presenters, are more directly tied to ticket sales or visitor numbers than some producing organizations perceive themselves to be. As a result, there is, potentially, more institutional incentive to connect with communities. They don't know what they will be presenting, so it behooves them to maximize the number of communities with which they have relationships. Positioning the presenter space as a community-friendly gathering place–as suggested in the rest of this list–is an ideal way to address this need.
Second, many presenters offer arts training programs at their venues. To be clear, education is not community engagement. However, the opportunity for participatory arts activities that education programs develop–especially when geared toward adults–can be a key component of an engagement strategy.
Third, many (but by no means all) presenters have outdoor spaces, like plazas, that afford the opportunity for public gathering and public events.
Fourth, performing and rehearsal spaces as well as lobbies can be utilized for meetings, social gatherings, and community-oriented presentations.
All of these are advantages that many producer organizations do not have. In addition, with respect to programming, presenters do have choices about what to program and, in many cases, there are options that can directly address community interests if the presenter knows those interests.
I am always leery of examples because of the unique nature of every arts organization-community connection. However, two venues come to mind. The Music Center of Los Angeles, one of the largest presenting venues in the U.S., has made a mission-level commitment to connecting with communities: "connect the people of Los Angeles with one another and with art that can enrich their lives." It's On Location program presents in LA neighborhoods, and it has an extensive program of public events at gatherings at Grand Park, a city park run by the Center. All of this is organized by a staff of four specifically charged with community engagement.
In nearby Costa Mesa, CA, the Segerstrom Center for the arts sees itself as "a cultural center and dynamic town square deeply engrained in the fabric of our community." Its Center without Boundaries establishes civic partnerships with local non-arts organizations from communities it wants to engage and helps them address their specific goals. Out of its dance education program an Alzheimers support project entitled "Brain Dance" grew. It uses neuro-developmental movements that are important for cerebral function, balance, memory, and accessing language and includes family members in the work.
The Center's plaza is home to recurring small programs (Tuesday night dance classes featuring salsa, Broadway, Bollywood, and country line dancing) and large community events like its Three Kings Day Festival. The TKD Festival grew out of meetings with a community advisory committee. The committee organizes the event (and others like it) with logistical support and seed money from the Center.
It's true that presenter organizations have particular challenges when it comes to community engagement. However, their inherent strong incentive to connect, the educational programming many already offer, and their facility rich nature all represent engagement opportunities that many producing organizations do not have.
Let's all
Engage!
Doug