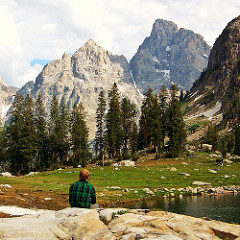 As I consider the future of ArtsEngaged and of my own role in the community engagement arena I am, of necessity, thinking about the status of community engagement in the nonprofit arts industry. If most (or even many) arts organizations were on a clear path to substantive community engagement there would be no need for training in and advocacy for community engagement. I'd be really (really, really) happy to ride off into the sunset. But from my direct observation and from the reports of many in the field (usually from younger people in junior level arts organization positions) we're not there yet. For too many arts organizations, their level of self-focus apparently makes understanding that effective community engagement is something substantially different from traditional sales/marketing/fundraising/education approaches nearly impossible.
To be clear, effective community engagement is the building of mutually beneficial relationships with new populations out of which grows arts programming that addresses the interests of those populations. This demands humility about how little we know about communities with which we have no relationship, respectful listening to learn, and a willingness to view and employ our art as a means of making lives better–better in ways understood by those communities, not in ways that we paternalistically assume. And it must be relationships with new populations because our reach is simply not great enough to support our work as we look to the future.
Across the field there are certainly many areas of good news. There are the arts organizations that practice effective engagement out of simply necessity. These are rural, neighborhood, and, sometimes, culturally specific organizations whose base population is small enough that they have to (and can) know their members fairly well. There are also the organizations whose mission is some form of social justice work utilizing the arts. Justice cannot be pursued without understanding the nature of injustice and its impact on individuals. Conversations have to happen.
Even among medium-size and large arts organizations with arts missions rooted in the European aristocratic tradition there are those that have made substantial, organization-wide mission-based commitments to their communities (Milwaukee Repertory Theater for one); others with significant programming or project-based commitments to their communities (Houston Grand Opera's HGOco is but one); and still others that have hired a C-suite level (CEO, COO, CFO, etc.) officer to oversee relationship building processes and the resultant programming initiatives and have given them the mandate and resources to be successful. I believe the Queens Museum of Art falls in this category.
Unfortunately, there are many (I would unscientifically call it a vast majority) that have no interest in engagement, pay it lip service, or call things that they are doing "engagement" when they clearly do not use the means or serve the necessary ends (expanding reach) of effective engagement. The common thread among these is a prime or exclusive focus on benefits to the arts organization and a level of artcentricity (seeing the art, rather than the interaction between people and that art, as primary) that gets in the way building relationships. A few examples of what I mean are given below. This is by no means an exhaustive listing.
Calling these things engagement does nothing to address the systemic challenge we face: the need to be seen as valuable by vastly larger percentages of the population. If, like me, you believe that effective engagement is critical to the future of the arts in our country, you understand that there is much, much more that needs to be done.
Next time, some thoughts on things to be done.
Engage!
Doug
Photo: 
 Some rights reserved by archerwl