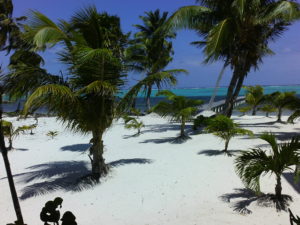 I know I'm the only person who is really interested in what I am going to say here, however, on the off chance that anyone notices, I'm taking a couple of weeks to sit on a beach in Belize. (Yes, the very one pictured here. It's a photo I took myself some years ago.) Internet access is limited plus I just don't wanna think all that much when I'm down there!
When I do choose to ruminate, I may give a bit of thought to the future of this blog and of ArtsEngaged. Engaging Matters has been in existence for almost seven years; ArtsEngaged is embarking on some interesting projects–Community Engagement Training and development of a Community Engagement Network for "community engagement experts, practitioners, enthusiasts, students, and idly curious bystanders."
I'll be back in a couple of weeks. Perhaps there will be things to report. Or perhaps I will have simply further developed my taste for Belikin ("The beer of Belize") and for rum punch.
Engage!
Doug