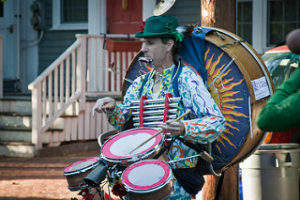 I am frequently asked whether an arts organization can successfully engage communities with just one person assigned the responsibility for "engaging." One answer, given with considerable trepidation is, "It depends." If it's a small organization, if community engagement is represented/honored in all decision-making processes, if everyone in the organization maintains a commitment to engagement in all of their work, then "Maybe." If not, the answer is "No." Communities can easily sense when interest in working with them is limited. It is also true that engagement is demanding and can easily exhaust a person, mentally if not physically. Spreading the load is always a good idea.
But there is another, practical reason that the one-person show is unwise. Community engagement is relationship building, and relationships are, inescapably, personal. Especially in the early years, if there is only one person working on the relationship, the community's trust is in that person, not the organization. If that person leaves it is frequently the case that all, or nearly all, of the work put in will be lost. Indeed, if there is any suspicion that the person's departure represents a step away from the community on the part of the organization, the relationship may end up being worse than if the engagement work had never been started.
So, for a wide variety of reasons, it's important that there be more than one face from the organization involved in engaging with communities–new relationships as well as long-time ones. This could certainly include volunteers or board members. Not all contact has to be through staff members. But the contact must be spread among multiple people. Otherwise, the efforts at engagement may fall apart with the loss of the "designated engager."
Engage!
Doug
Photo: 
 Some rights reserved by andrewmalone