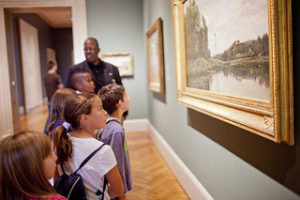 Some time ago in a forum discussing community engagement, someone asked me what the role of docents should be in engagement work. It was a light bulb question for me. My professional background is primarily in the performing arts so I have always viewed box office workers and ushers as important elements in contact with the public and, therefore, in engagement efforts. The question opened up to me a whole world of possibilities since docents are a deeply ingrained part of the culture of many visual arts organizations.
Docents are ideal prospects for important involvement in engagement. They are dedicated to the work of the organization and to the art or they would not be volunteering to be educators in this way. They have experience in interacting with people from outside the organization and in advocating for the work the organization presents. Perhaps most importantly, it is part of their function to spend time, sometimes a lot of time, with visitors.
Including docents as a key component of engagement efforts would require some new training and skill development. Historically, docents have been primarily one-way providers of information, although that has been changing. Two-way  exchanges to develop relationships would be an additional task as would the debriefing required to access what they discover. However, the potential is enormous. Not only are docents in a position to learn much about communities that are already curious about the work of the organization, they might, in some cases, also become resources to develop and maintain relationships with those communities outside of the walls of the museum or gallery. All of this would, of course, have to be part of a comprehensive engagement plan, a plan in which docents are only one element.
Docents are an established part of the visual arts world. They already interact with the public. It would not take a great deal of change to enlist them in helping the organization develop relationships with individuals and the communities from which they come.
Engage!
Doug
Photo:  Some rights reserved by Saint Louis Art Museum