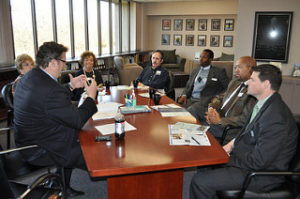 It's no secret that I advocate for arts organizations addressing community interests. (Well, duh!) And, in order to do that, we have to know what those interests are. (Again, duh!) On my website I address some of the ways we can start to discover those interests. (Community Learning) Of course, the simple answer is to talk to members of those communities. And we absolutely should do so.
But if this is so important, here's another thing we could do to keep community interests uppermost in our minds. At each board meeting, at each staff meeting devote time to a discussion of "what's happening in the community." We cannot credibly respond to things going on "out there" if we don't know what those things are.
In the consultation I do around organizational planning I suggest that a portion of each board meeting be devoted to a discussion of one of the strategic issues facing the organization. (And if not at every meeting, at least frequently enough that the topic is recognized as significant.) If community engagement has been identified as a central focus of the organization, discussion of community issues (and how the organization might address them) is a perfectly logical step. And, since some of the opportunities that community interests raise might be operational or tactical, it also makes sense for staff meetings to have these discussions as well.
This would have the further impact of keeping engagement on everyone's mental "front burner." Worth considering.
Engage!
Doug
Photo: 
 Some rights reserved by Michigan Municipal League (MML)