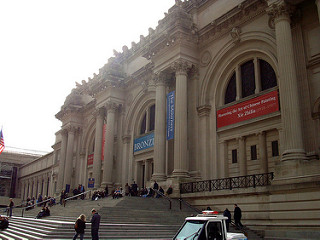 In my last couple of posts, Doin' It and Doin' It: Vocabulary, I introduced the idea of participatory experiences as being a potentially critical element in the work of arts organizations as well as some ways to begin thinking about categories of such experiences. In my next two posts I want to focus on examples of both the practice and practitioners of this type of work.
Interactive exhibits and exhibitions are becoming increasingly common in the museum world. From relatively low-tech "response walls" (attendees comments on an exhibit) through a variety of technologically intermediated options–e.g., real-time Twitter-based Q&A, location-based support (like GPS in the museum), interactive video, and virtual reality, the visitor experience is becoming more participatory.
Beyond "simple" interactivity, much work is being done to make community members a vital part of the development and production of what takes place in the museum. There is no greater authority on participatory practice in museums than Nina Simon. Her blog, Museum 2.0, is "the gospel" on the topic; her work as Executive Director of the Santa Cruz Museum of Art & History is one of the primary "poster children" for both community engagement and participation; and, of course, she literally "wrote the book" on participation: The Participatory Museum. I can simply get out of the way and let her speak for herself and point us to some other valuable resources.
Ms. Simon's commitment to participatory practices is an outgrowth of her dedication to community engagement. In Does the Most Powerful Work Lie Onstage or Behind the Scenes? she says:
The more my organization has become focused on community engagement, the more we've balanced being experience producers with being experience co-creators/facilitators. We still produce exhibitions, events, and educational programs for an audience, but that audience is just one of our major constituencies. The partners we work with–to catalyze projects within and beyond our walls–are just as important as our visitors to fulfilling our mission. Relative to other museums, I think we spend less time producing an "onstage" experience and more time collaborating with community organizations behind the scenes to empower them to produce.
Ms. Simon's museum practices what it preaches. "We invite diverse locals to share their creative and cultural talents with our greater community at the museum. Printmakers leading workshops. Teens advocating for all-gender bathrooms. Volunteers restoring a historic cemetery. Sculptors building giant metal fish with kids." (Does Community Participation Scale to Destination Institutions?) The museum actively encourages community input on exhibitions and programming and invites feedback on all exhibitions. To be sure, they have guidelines about what they will and will not support in programs suggested by community members. They have gotten good at structuring feedback mechanisms to improve the results.
The number of examples at MAH-SC is almost too big to do justice in pulling out just one. Their pop-up museums feature considerable community input. One of my favorites was a women's history display from a few years ago: "Celebrate Women's History Month and International Women's Day with a Pop Up Museum on Her Story.  Bring an object from or inspired by an important woman in your life and leave it on display in MAH's atrium." Community members brought objects and photographs illustrating the contributions of women in the area over time.
Ms. Simon's blog pointed me to another example, the Portland Art Museum's Object Stories project, designed to involve area residents. "Launched in 2010, the Object Stories initiative displays personal perspectives and related physical objects on a single theme. The perspectives combine audio and still images into video interviews which are installed on iPads next to their corresponding objects in the gallery."
This post is not intended to be a thorough review of participatory practice in museums. That is well covered by Ms. Simon. It is simply an attempt to highlight some of the work going on in the museum world for people who might not be aware of it. Here are a few more resources for the curious:
Just A Few Examples & Resources
As Ms. Simon and Mr. Visser make clear, the design of participatory experiences must be well thought out. Haphazard approaches will yield, at best, haphazard results. At worst, they can be institutional and public relations disasters. Nevertheless, the need to get more people involved in the work we do is so great that it is important that we begin to learn how to do this well.
Engage!
Doug
Photo:
Some rights reserved by IslesPunkFan