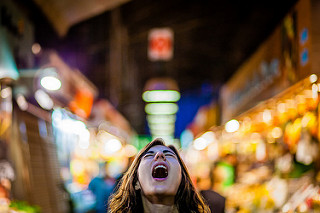 Several months ago in its weekly newsletter, ArtsJournal.com, the host of this blog, posted an article about opera in Great Britain that had the following teaser title: Opera Is *Not* Too Posh And Exclusive, And If You Think It Is, It's Your Own Damn Fault, Says Opera Boss. That title was, without a doubt, (successful) clickbait.
As readers of Engaging Matters might expect, a title suggesting that those not interested in opera (or any other art form) need to fix themselves troubled me, to say the least. The implicit condescension is one thing. But from a practical point of view, how effective is it to tell people who are not interested in a product that they are at fault and need to change?!!
On reading the article, it turned out that the teaser was a good deal more extreme than the content. Michael Volpe, the director of Opera Holland Park described the efforts his company has made to make opera accessible and those efforts do, indeed, appear to be innovative, extensive, and substantial. My hat is off to him.
And I understand his frustration at the continuing image that opera (and virtually every other art form) "is for the rich, unattainable, impenetrable, elitist and from a parallel universe." No single organization can really rectify what is a very widely held perception. The frustration came out in two quotes:
The problem with accessibility in opera is not opera itself. It is the public who take on board the silly tropes and stereotypes and exclude themselves from a rich and rewarding experience.
Opera is accessible – people need to let it in, not the other way around.
It is arguably true that the self-exclusion Mr. Volpe describes does diminish non-participants' lives. But it is only the kind of work that his company is doing that can break through to alter the perceptions. It is the second quotation, though, that gives me pause. "[P]eople need to let it in." I can see the why in that. But where is the how? For what reason would they do that? What circumstances would bring that about? This is certainly a cri de cœur, but not one that will be productive in creating the kind of change we want and need. Especially insofar as the problems we face are marketing problems (and that is only one of our problem areas) the answer does not lie in lecturing those we would hope to reach.
The perceptions we lament are an unfortunate element of the world in which we live. It is our reality to deal with and we, the arts industry, are the only ones with sufficient vested interest to undertake efforts to change people's views. Hectoring those on the "outside" about what they "should" do will do nothing to transform hearts and minds in a positive way. On the contrary, there is a very real danger that those outsiders may see these sentiments as confirmation of a view that the arts world is disconnected and self-focused.
Engage!
Doug
Photo:
Some rights reserved by modesrodriguez