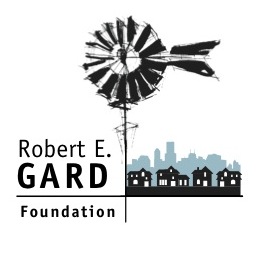 Today was the final day of The Robert E. Gard Foundation's Our Communities: A Symposium on the Arts at The Johnson Foundation at Wingspread's conference center.
New Ideas for a World in Transition: A Next Generation of Work
Savannah Barrett, Tatiana Hernandez, and Laura Zabel explored elements of structure and operations from the perspective of the youngest generation of community arts workers. This was for many a highlight of the conference. All three emphasized experimentation and an entrepreneurial spirit as hallmarks of the next wave of practice in the field, with relationship building and maintenance as the foundation. In addressing the relative merits of nonprofit organizational structures, Laura Zabel said structures are tools. "Nonprofit structures are a hammer. I don't want to talk about hammers. Some projects require a hammer. Others would be destroyed by one."
A previously heard concept, developing a "strategy of belonging," was cited as being particularly meaningful to young arts leaders. Maintaining a  focus on fostering "awe and wonder" was seen as important and a vital element even in projects identified as serving more mundane purposes like economic development.
Concluding Remarks: Legacy, Landscape, and Pathways
Americans for the Arts President Robert Lynch was the last scheduled presenter. Working from notes on each Symposium presentation, he provided a wrap-up highlighting themes of the gathering and providing a reminder of the history of the field that has brought us to this point–including homage to Gard's influences, mentors, and other "heroes of the arts in the U.S."
The Symposium concluded with final observations about conferences themes and lessons from each of the approximately forty participants.
The Robert E. Gard Foundation is deeply grateful to Americans for the Arts, Grantmakers in the Arts, The Johnson Foundation, The Racine Arts Council, the Wisconsin Arts Board, and Wisconsin Friends of the Arts for their support which made the Symposium possible.
The Gard Foundation Board of Directors is developing plans to make texts, videos, some audio recordings as well as ancillary materials available to the public. Details will be provided on the Foundation's website: http://gardfoundation.org/2016-symposium/
Engage!
Doug