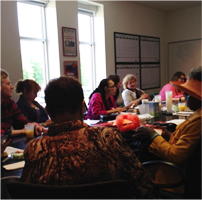 Last year ArtsMemphis invited me to speak and do a little consulting work. In the process I learned about their Community Engagement Fellows program and that program's focus on the Orange Mound neighborhood in Memphis. (According to Wikipedia–former academic colleagues, forgive me–Orange Mound was the first African-American neighborhood in the United States to be built by African-Americans, dating back to the 1890's.) I was deeply impressed both by the Fellows program and its work in Orange Mound. (At one point an older resident of the neighborhood said in a Q&A session that they had been so impressed by the work of the Fellows that they asked the Fellows to help put together a celebration of Orange Mound's 125th anniversary.)
Last month Memphis' Rhodes College sponsored a conference called Memphis Art and Place to consider the role of culture in local placemaking. The Orange Mound work was featured as one of the key examples and I thought it would be valuable to highlight this interesting work.
ArtsMemphis's Community Engagement Fellows are aspiring and early career arts managers with a passion for connecting the arts and communities. Here is the overview of the program, taken from the ArtsMemphis website:
We launched this program in 2014 in order to train emerging leaders in the nascent field of arts-driven social change. Each Fellowship award comes with a stipend to participate in a six-month, hands-on curriculum under scholar-practitioner Linda Steele. So far, we've trained 30 Fellows from a host of different nonprofits throughout Memphis. 
Three projects featured on their website are:
A Cross-Generational Storytelling Project bringing youth and senior citizens together to share stories. From this  emerged a play about Orange Mound's past and future;
A Family Resource Center at Dunbar Elementary School, a community center which offers dance classes and arts-based learning opportunities for strengthening families; and
"O-MUSIC" After-School Music-Instruction Program which connected Orange Mound Outreach Ministries (that had musical instruments but no instructors) with music instructors. One result is peer-based instruction in which older youth teach younger ones.
There are many other exciting projects including a community center/library/cafe with which the Fellows partner. The most significant aspect of the work to me is the way they go about developing projects. "They worked hand-in-hand with Orange Mound residents to design arts-based projects to address the neighborhood's self-identified needs." [Emphasis mine.]
To close, I'd like to give a personal shout-out to Linda Steele, ArtsMemphis's Chief Engagement Officer, who has done extraordinary work in developing and managing these programs.
Engage!
Doug