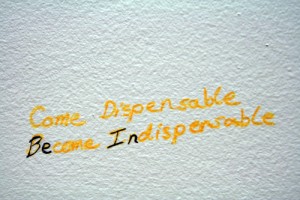 I recently had a conversation with a friend in which I used that phrase, "making the arts indispensable." While he agreed with my intent, he was concerned that one view of it would be to reinforce a sense of entitlement that some in the industry feel today. "Yes, the arts are special and since they are, we should be supported to continue doing what we are doing." Clearly that was not my intent so I thought it might be useful to pursue it a little further in spite of the fact that it's not been long since I touched on this idea. (Make Yourself Indispensable)
Beyond my friend's concern, there are those who would object to the very premise. Everyone who works in the arts industry believes, as an a priori truth, that the arts are indispensable, that there is no need to make them so. And that is true. The arts are indispensable. However, when "the arts" is thought of as synonymous with the organizations that comprise the arts industry as it exists today, it is demonstrably false in any objective sense.
The intent of the phrase is to support work that makes the public aware of and believe in the arts' indispensability, an indispensability in which arts organizations play an important role. Certainly one might argue that it is possible to be indispensable without recognition of the fact (like trace elements in our diets), but that does nothing to serve the sustainability of the arts industry. Support only arises from awareness of value. It does no good to exist in functional oblivion as in the unforgettable words of Fanny Brice in Funny Girl,

I'm the greatest star.
I am by far,
. . . but no one knows it.
The community outside the arts is largely unaware of the arts' power. To be viable in any long-term sense, the industry needs to be viewed as essential, not merely "nice." (Elizabeth Merritt has recently amplified on this idea in Why You Don't Want to Be Nice.) As long as we are an amenity, as long as we are "nice" we will struggle to get the attention of a world that only has time for that which is understood as essential. When we engage, when we seek to serve the community good, we begin to gain traction as being necessary. That is a substantial base upon which to build.
Engage!
Doug
Image: Some rights reserved by quinn.anya