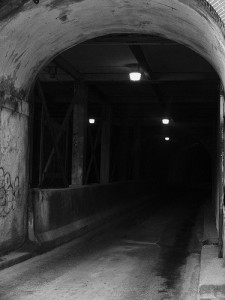 In a recent post, Elizabeth Merritt, the founder of the American Association of Museum's Center for the Future of Museums, gave a good synopsis of impending threats to nonprofit status that the arts may well be facing in the near (or immediate) future. (Dark Futures: Nonprofit Fragmentation) The essence of the argument is that in a time of budgetary despair for government, there is great pressure to examine the legitimacy of the tax benefits granted the nonprofit sector. We are already seeing the proliferation of voluntary (and not-so-voluntary) PILOTs (payments in lieu of taxes) and crowds at the barricades questioning the nonprofit status of gigantic hospitals and amply endowed universities.
The likelihood is that a public re-examination of 501(c) status is on the horizon. (For those unaware, 501(c)(3) is only one of the tax exempt status categories, but it is the one into which most nonprofit arts organizations fall.) This will apply to all nonprofits and will likely have a strong element of evaluating the relative worthiness of the differing elements of the field, once again raising the question of social service providers versus all others, including the arts.  And, for all the legitimate arguments to the contrary there is a fairly broad-based assumption on the part of the public that the arts are for those with money, education, and/or power–not the 99% or 47% or whatever clichéd percentage you choose to employ.
Whenever some segment of the arts community sounds as if it feels entitled to public support, whenever there is artcentricity (focus on the art rather than its impact on people), whenever there is out-of-hand dismissal (based on stilted notions of curatorship and/or "quality") of calls for community awareness in programming, this unfortunate (and now potentially debilitating) assumption is bolstered.
It is critical for the future health of the arts sector that we act preemptively to change the perception. As I have said before, we must come to be seen as  valuable by being valuable to communities. (Matter by Mattering) This is not to say that there is not good work happening. Far, far from it. However, in the face of this looming threat, all arts organizations must examine their relationships with communities (of every kind) around them and learn (and work) to more fully
Engage!
Doug
Photo:
Some rights reserved by Mr. Ducke