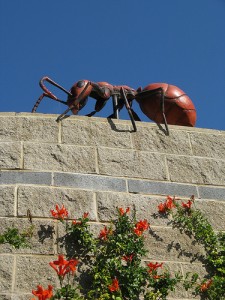 Two of my favorite bloggers, Nina Simon and Diane Ragsdale, have recently weighed in on the want vs. need argument. Since this is a topic I have addressed a couple of times before, I wanted to expand upon the discussion a bit from my perspective.
It is reasonable to assume we know some things the general public does not about how the arts can address their needs. For instance, if there is a need to address issues surrounding race relations, the general public will not have sufficient awareness of repertoire to make suggestions. (I have used the example of Michael Tippet's A Child of Our Time before.  No one outside of professional music circles would likely be able to know the piece.) Also, the types and modes of presentation possible are not common knowledge outside of our inner circles. Our expertise is necessary.
However, it is not reasonable to assume we know the needs of the general public. We know our needs and we know what we want others to need. As both Ms. Simon, Ms. Ragsdale, and several commenters on their posts acknowledged, the temptation to label what we want them to need as needs is a nearly insurmountable one.
To use Ms. Ragsdale's citation of the plumber (courtesy of Taylor Mac), while most of us do not expect to second guess the plumber when one is called, the fact is we know the plumbing is not working when we call him or her. (The water covering the basement or bathroom floor is a significant clue.) The problem we have to get past in the arts is the fact that most of the general public has no (or little) idea that they need art, so the situation is more complex than that faced by the plumber. We can argue about whose fault that is and even what others should do to fix it, but there can be no argument about whose interest is most served by altering that reality. It is ours. And while no one is required to work on this issue, failing to do so only prolongs the status quo, perhaps to the point of no return.
Truly connecting with community is an unnatural act for most of the established arts industry. Lines of communication are not well-established and vocabulary and expectations are skewed by lack of contact and, in some cases, histories of distrust. But successful relationships between arts organizations and their communities demand an understanding that the arts world has expertise in the genre (and culture) in which it specializes and the community is expert in "what works," what's needed and/or valued, and how to successfully implement projects in that community.
As I said in R E S P E C T:
Prior to the iPod and iPhone, who knew we all needed palm-sized juke boxes and computer/phones? Apple didn't give us things we asked for. It gave us things we would come to want (and OK, now "need") and it made them with style. The company considered the way people used and responded to entertainment and data and created things that would meet the needs, not necessarily the current wants. However, the rubric for success (the outcomes assessment) is that upon understanding what these things were, people developed incredible "wants." The fact that Apple became the biggest company in the world is a fairly self-evident demonstration! If no one (or very, very few) had bought the products, their assessment of the need would have been proven to be wrong.

The key is to respect people. Giving people what they need rather than what they want is a form of deep respect, if that is indeed what we are doing. If we are simply giving them what we want to give, that is profound disrespect. In order to distinguish the difference, we need to reframe our own perspective and get to know "them."
Perhaps better, we need to see our constituencies (and potential constituencies) not as "them." We need to understand that, together, we are all "us" in the application of the arts to make all our lives better. This requires
Unfortunately, for some this is a radical re-imagining, but it seems to me to be the only path to long-term viability for the industry.
Engage!
Doug
Photo:
Some rights reserved by Brave Heart
(You may need to be of a certain age to get this one.)
For the record, I just noticed that this is post #200 for Engaging Matters. For anyone still reading, thanks for doing so!