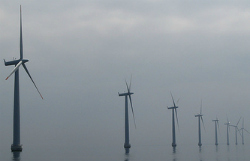 Yerba Buena Center for the Arts is taking community engagement seriously and to an extremely individual level. The Center's YBCA: YOU program provides one-on-one introductions to YBCA and contemporary art. (Once again, and clearly not for the last time, I am indebted to Nina Simon's Museum 2.0 for highlighting an important aspect of community engagement. Guest blogger, Laurel Butler, Education and Engagement Specialist at YBCA, wrote the post that got me started here. For future reference, note that there is someone with the title Engagement Specialist on the staff! Be still, my heart.)
The website description of YBCA: YOU calls it "personalized art-fitness training to help you navigate all the Big Ideas going on at YBCA." In her post, Laurel describes it as "a gym membership with a dash of case management and counseling." A single press release elicited twice as many applicants as they could handle. In the end, through in-depth interviews with participants, the Center created "aesthetic development plans" for over 100 people. The video embedded in the blog post is pretty inspiring testimony from people who took part in the program. My favorite quote in it is from the man who said, as a result of his experience in YBCA: YOU, that now, "if someone says this is performance art, I'm not going to be immediately sick. . . . I'm going to check that out." Any program that can accomplish that with someone not from the arts universe is worth investigating!
Another element that is particularly meaningful to me is that the participants also become a cohort, experiencing the program together. In doing so, they develop reinforcing relationships with each other, bouncing ideas around the group, and forming a strong bond with YBCA as well. This is not just arts education for individuals, it is social capital building (relationship forming) among the participants and between them and the Center. Win-win-win.
Like any of us with experience in arts management, I am immediately aware of the labor-intensive nature of a program like this. There are legitimate questions about the practicability of replication. But if the concept is a valuable one (and who can seriously argue that it's not), then examining its essence for doable lessons is important. Equally important is to consider the opportunity cost of all the programs currently being run. Are each of them more valuable than one like this? I'm betting not.
But still, YBCA: YOU would not have happened had the Center not made a core-level institutional commitment to engagement. In their Values Statements, YBCA includes a passage on Diversity and Inclusion:
We completely embrace the challenge of working with people from different backgrounds, with different life experiences and alternative points of view. Underlying our commitment to diversity is mutual trust, respect and an openness to other perspectives, even if it makes us uncomfortable at the moment.
The Center's home page goes further, acknowledging both a desire to connect and the need for arts organizations to do things differently:
It's not about sound bites and who can shout loudest and who wins and who loses. It's not about voracious consumption, bling, status or prestige. It's not about possession and greed, fear and loathing or anger and violence as a means to an end. . . . It is instead about that most important human quality – the ability, through creative expression, to passionately engage with each other and with the world around us. . . .In striving to accomplish this, we know that, like the artists who create the work we so fervently want to share with you, we need to break some of our own boundaries. We need to step out of our long traditions of neat packages of artistic "product" and create a completely new, multi-disciplinary, multi-cultural, artistically challenging and humanly satisfying contemporary arts center, one that today's world needs and deserves.
I will merely respond, "Bravo, YBCA."
Engage!
Doug
Windmills Photo:
Some rights reserved by m.prinke