[contextly_auto_sidebar]
ONE of the first things I saw when I moved to Athens, GA, two years ago was a gallery — okay it was the landing of a rock club, the Georgia Theatre — devoted to large, beautifully produced photographs by a guy named Jason Thrasher. Plenty of Athens musical heroes — R.E.M.'s Michael Stipe, for example, and members of the Elephant 6 bands — were here, as well as people I didn't know. Each shot was distinctive, bringing out the personality of each artist along with, in most cases, his or her private environment.
It gave me a sense of a place that was — and had been — a real cultural community and not just a jumble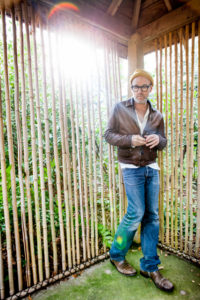 of bands.
I ended up, as it happens, being introduced to Thrasher that night, and while we mostly kept missing each other over the ensuing year, I was struck by the seriousness of his craft and the wide range of his work.
So I was pleased to hear recently that Thrasher has put together a book chronicling the city's music scene. As a died-in-the-wool West Coaster who returned to Los Angeles, I'm glad to have the vibrant scene back in Athens documented so well. Here is my conversation with Thrasher about his book, Athens Potluck. The book, which you can read about here, includes an introduction by Patterson Hood of Drive-By Truckers.
Your book has an unusual structure, with each musician suggesting the next one in the book. Whose idea was this, and why did it seem like the natural way to do Athens Potluck? 
My wife, Beth Hall Thrasher suggested the idea that the first person select the next person and so on. We had been talking about how to do a book about the Athens music scene for a while and I had been photographing a lot of bands at the time. I didn't want to do a book of band photos. At least not for my first book and I knew I wanted to photograph individual artist or musicians in their homes but it was this idea that they choose where to go that set me on my path. If I had chosen everyone it might have happened and been another kind of book but with this approach it truly is a community project. The name Athens Potluck refers to the idea that everyone had to bring something to the table and that something was the person they chose.
What's amazing about the Athens music scene is that it's ranged, just in a few decades, from the B-52s and R.E.M. to Neutral Milk Hotel and Of Montreal and Elf Power, to Drive-By Truckers and Future Birds and Cicada Rhythm… bands that cover a huge range of styles. What do you think makes the scene in this little city so rich and stylistically varied? 
The Athens I know and love is a very small town inside a small southern city.
Athens benefit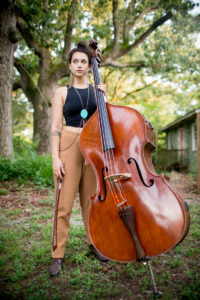 s from being very close to Atlanta and everything it offers including the largest airport in the world. I have always felt that the art and music made here has an amazing ability to get out into the world. Maybe its this access and as well as the isolation that has created an environment where art and music flourish but also get broadcast to a wide audience.
Beyond that there has to be something in the water or maybe it's in the PBR. People here are supportive and secretly competitive. Friends inspire and push each other towards our goals constantly.
I know personally from this book that it was a greater effort that just my one-man show. This book was a true community effort. Not only with the 33 musicians that were photographed for the project and to the stories they each wrote for the book. The clubs hosted shows in support of the project and the greater Athens community (far and wide) pre-ordered over 400 books to make this thing happen.
One thing that struck me immediately about your photographs was how comfortable the subjects seemed — like they were able to be themselves, unguarded; this hit me especially with the image of Michael Stipe. Is this something you're conscious of, and how do you get there? 
The main goal when I started this project was to make natural relaxed photographs. I didn't bring a lot of equipment along for the photos, no flash or strobes were used and mostly I worked with one camera and one lens. I wanted to just hang out and see what would happen. Some of the people in the book I had know for years and others I met the day of the photo shoot. Some were great friends and others have become great friends since these photos were made.
I've know Michael for years but have never done a photo shoot with him but he's always been very kind and supportive of my photography. He's a photographer also so I think we talked about cameras and old friends while we worked. He's a pro and a hero of mine so he
knew what he was doing and I tried to make good photos.
I think if you look closely at some of the photos in a few people's chapters you'll see us get more comfortable with each other as we spent time together.
The real trick is taking your time and just enjoying the process with the person your photographing. It is a process.
You have an image of Jeremy Ayers, who I never met but who I got the sense was sort of a muse of the scene there and embodied some of what made the city's culture distinctive. Would you like to say something about him? 
Jeremy was everyone's favorite. I remember very clearly meeting him on the street downtown very shortly after I moved to town. I knew he was special right away. He was really my first friend in Athens. We lost Jeremy a little over a year ago and it kicked this towns ass. It was a huge gut punch to almost everyone I know and love.  As we were working on the book we tried to come up with a good way to honor Jeremy. He's in several of the stories that the musicians wrote for the book.  I had photographed Julian Koster at Jeremy's house when he was living there so when I called Julian to ask him to write a story for the book he told me this amazing story about Jeremy. As soon I we got the final story I realized that it opened up a chance to include Jeremy in Julians' section. It was one of my favorite parts of the book. I loved and I miss that amazing person.
Besides your shots of musicians, you've shot a lot of images of landscape, architecture, etc. I wonder what other photographers — especially photographers of the South like William Eggleston and Walker Evans — have ever been important to you? 
Eggleston is King and Evans made me see the beauty of my home state of Alabama. Along the Lee Friedlander, Diane Arbus and Larry Sultan they are my favorite photographers. There's a nod to Eggleston near the end of the book if you look closely.
What kind of camera/ equipment do you typically use, and why do they seem like the right arsenal for what you do?
I like to keep it simple. This was the first real project for me where I realized what I could do with a digital camera and didn't wish that it was film. Keep in mind I started this 7 years ago and I gave up film 12 years ago. For the first 5 years I missed it greatly but with this project I did something that I could have never done with film. At least they way I did it. I started off with  a Canon 5D Mark 2 and finished with a Mark 4 and a Sony Mirrorless.
Athens is, like most of the South, rainy, humid, deeply green and overgrown much of the year. How does this shape the way you photograph things, the way colors and light work in your images? 
That's the best part of the South. It effects the light in the best ways and it's really the reason I'm still here. We get all four seasons but winter is mild (how I like it) and it never really stays the same for too many days in a row. It's rainy and warm here in Athens right now, just days before Christmas and it very well could be hot tomorrow and then snow by the end of the week.
There's a thickness to the air and sometimes it actually coats the camera body. I've even had my sensor on the camera fog up. I love how this effects the light and the skin and the greenery. When civilization comes to an end, the South will be the first region to be taken back by nature.