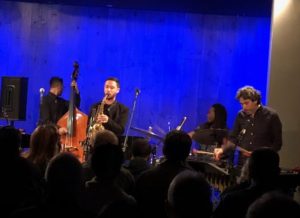 [contextly_auto_sidebar]
FOR the last few years, much of the attention to the resurgent Los Angeles jazz scene has gone to Kamasi Washington, a titan of a tenor saxophonist who I had the pleasure to see at the Hollywood Bowl over the summer. His communal, late-Coltrane, South Central approach to the jazz tradition is for real, powerful, even — a word I try to avoid — inspiring.
But there is more to the revived LA scene than Washington, and the non superstar players are the ones who really give a music community its dimension. There are surely others, but to my casual acquaintance, a whole other level of fine players with strong live presences include drummer Matt Mayhall, bassist Miles Mosley, and guitarist Jeff Parker. And, alto sax Danny Janklow, who I saw a few nights ago at the Blue Whale.
Janklow's show was the record-release party for his new LP, Elevation. He's a friendly and appealing leader onstage, and commanded an exceedingly good band. This is what we used to call (do people still use this term?) "straight-ahead" jazz, with just a touch of '60s avant-gardeism and a few forays into funk. (The group included a vibraphonist and the bassist put down his upright for a song or two to groove on what i think was a Fender.) As strong and locked in as this crew was, the highlight was guest pianist Eric Reed, perhaps still best know for his work with Wynton. Swinging, lyrical, forceful — it was a real pleasure to see him solo.
Janklow himself seems to me in the Cannonball Adderley school — bluesy, melodic, supple — with at times the instincts of a late-period Art Pepper. That is, he often starts out with a brief, singable melody and then builds his songs to big, expressive emotional climaxes.
Apparent'y I'm a bit late to Janklow's work — the show as packed, and it was not all brooding bespectacled white men like yours truly. This is a crowd I rarely saw when I used to go to the old Jazz Bakery.
A young native of the Valley, schooled in the jazz crucible of Philadelphia, who returned home, Janklow appears to have a bright future. My hope is that this charismatic and open-eared performer will sustain his best qualities while developing a more distinctive voice on the saxophonist. Janklow is still in his late 20s — I look forward to what he comes up with next.