[contextly_auto_sidebar id="Xk6JC31DMBzwhIx8HqWSAUMhlvPf4tdk"]
LOS Angeles is the capital of the film world, but it is about to lose one of its last great shops that rents movies: Vidiots in Santa Monica. I got to know this place about a decade ago, as well as a store made up of some of its alums, CineFile in West LA. A little later, I frequented Rocket Video, which closed a few years ago and leads a chapter of my book. In any case, not only were these stores urban spaces where people could gather to talk about obscure French New Wave or Hong Kong movies or '30s gangster films or '70s science fiction, they were placed that employed knowledgeable — almost scholarly — film lovers.
Vidiots was especially valuable for offering screenings and events with filmmakers.
This story from the LA Weekly — "I Went to UCLA, But My Real Film School Was Vidiots" hits it on the nose. (That's almost as true for Quentin Tarantino.)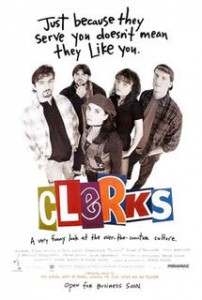 The store's founders, Patty and Cathy ("the girls" as we all called them), were two of the nicest, most down to earth people I'd ever met. I liked the idea that two friends could start a business more or less out of love. It was the kind of store they wanted to rent from and it didn't already exist (not nearby, anyway), so why not?

Like used bookstores and record shops (remember them?), independent video stores are many things — providers of jobs for those willing to trade low wages for cultural cachet, magnets for a certain kind of pop culture man child, sanctuaries for those who have made cinema their religion. For me Vidiots, which will close April 15 after 30 years, was like a clubhouse, one where customers came to talk about movies as often as they did to rent them.
The very fine WSJ film critic Joe Morganstern has also weighed in.
Vidiots is my local video shop in Santa Monica, but it's the Alexandria library of video shops, a repository of 50,000 DVD's and tapes, many of them rare and unavailable anywhere else, including the Internet. For the almost 20 years I've been reviewing movies for the Journal, I've cherished the shop, with its all-knowing staff, as an indispensable resource.
I am so tired of writing these obituaries. But it's important that we mourn and remember when something valuable dies.
UPDATE: Vidiots saved! At least for now. Great news. If only all of these places had benefactors like this.