[contextly_auto_sidebar id="yn9axOyZHqiOw8ewg8ssVPhGCVhfNenL"]
RECENTLY we've been hearing that artists and writers are being priced out of Brooklyn, and the search for "the new Berlin" — an affordable city for creatives — is on. (Krakow? Vilnius?) And is Portland getting better, or worse? A number of stories have tackled the issue from different angles. (It all reminds me of the Talking Heads song, "Cities.")
This piece from the New Republic  takes the long view.
This way of talking about cities—"up-and-coming," "cool," "over"—is partially the result of a rash of neo-liberal reforms that have had a deleterious effect on the way we think about cities over the past two decades. "From the 1980s onwards, national governments pulled investments from cities, and they've been needing to compete for investment, jobs, and media attention," says Jamie Peck, a professor of geography at the University of British Columbia. This means that cities—spurred on by globalization and Richard Florida's highly contested claimthat the key to urban regeneration is to attract a "creative class"—are now engaged in an aggressive war for buzz and attention.
The Thomas Rogers's story continues by noting: "Berlin isn't the only city trying to sell itself as 'poor but sexy.' In the past several years, cities ranging from Detroit to Durham have been hoping to rebrand themselves as 'creative hubs,' whether or n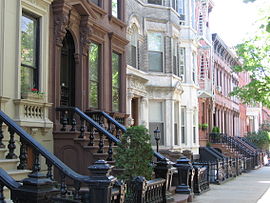 ot that label has any bearing on reality."
This dynamic — the move of creative types into a city or neighborhood, and their eventual ejection after the place becomes too expensive — is something we'll be talking about, and struggling with, for a long time to come.