[contextly_auto_sidebar id="z9vqtTIKWYYE4qjmn9I73sMygRd2LrTi"]
WHAT happens when a society gets obsessed with those who win at the capitalist game, when marketing becomes the new religion, and the gatekeepers of art and music stop caring ab0ut the fields in which they labor but get hypnotized by the machinery of star-making? We get "artists" like Jeff Koons or Taylor Swift.
The onetime country singer — the descendent of several generations of bank presidents — is celebrated in the press for her marketing and self-branding (like George W. Bush she's framed herself as a folksy "regular" person), which seems to be more important to many scribes than the machine-made blandness of her music. (What's with all the stories on the pseudo-events that make up her PR strategy? I know pop music has always been, in part, about money.)
Compare her to real country heroes like Johnny Cash, or Willie Nelson, or Lucinda Williams, and her genius is really for self-promotion, not music-making. Much of the media coverage seems uninterested in noticing this: The hunter has been captured by the game.
That's why I'm especially pleased with the New York Times story about the backlash to Swift's world-domination campaign.
Taylor Swift has been named a Global Welcome Ambassador for New York City a week after the release of her single "Welcome To New York" — but for many listeners (and viewers of the surrounding publicity campaign), her depiction of the city is neither particularly accurate nor particularly enticing.
The story quotes a Village Voice story by Tessa Stuart about Swift's new role as New York's ambassador: "Some people might look at all this and say Swift is a marketing genius with an eye for ~ S y N e R g Y ~ …Others (us) will say she's a cyborg sent to this planet to convince people without ideas to drink Diet Coke, and shop at Target, and move to New York."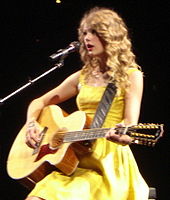 The story also quotes Dayna Evans on Gawker:
I'm not sure who comes off worse in this public relations horror: New York City or Taylor Swift. When affordable housing is near impossible to come by and as monolith branded-cool companies push out arts communities and while entitled rich children run through the streets proclaiming ownership over everything and while minority arrests continue for low-level crimes, the least (or most?) likely choice for the promotion of a city with equal problems and triumphs is a whitebread out-of-towner who says, 'Hey, don't think about those scary, unjust things! Let's talk about that night we stayed out late dancing instead!'
I expect Ms. Swift is a very nice person, and lots of her fans are, too; I don't mean to incur the wrath of legions of teenage girls. But in the same week the New Yorker devotes an enormous amount of space to Billy Joel, another overrated hack — while so many more talented musicians starve on a tiny sliver of the sales and attention — I am awaiting the end of this latest media cycle.
Most musicians who hit young have stage parents to some degree, but the story of Swift's rise resembles the way billionaire Sheldon Adelson tried to buy Newt Gingrich the presidency. Her banker father certainly knew how to exploit a market niche: He moved to the family to Nashville so little Taylor could break in, hired expensive handlers, and bought part of her label. This is the winner-take-all culture taken to a whole higher level.