[contextly_auto_sidebar id="CRRqStIBmpYdmSguLgIo8y1dooOQBZsV"]
ONE of the several nice things about conductor Esa-Pekka Salonen being back more solidly in Los Angeles, where he has a post with the LA Phil, is the steady infusion of strong new or modern music from Scandinavia, a region which has been on a roll for the last few decades.
Last night I saw a Salonen-conducted concert at Walt Disney Concert Hall that includes pieces by Janacek, Sibelius and the conductor's Finnish contemporary, Kaija Saariaho.
Her piece Earth Shadows (Maan varjot in Finnish), made its world premiere in Montreal in the spring. It has a second movement that is just as eerie and harmonically strange as Brian Eno's '70s music. The piece, which includes an organ, deserve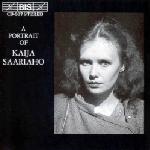 s to be performed more widely. There's a descending figure on the strings that made me feel like my seat was moving.
Here's Mark Swed's review of the whole concert.