[contextly_auto_sidebar id="EnEg7SR54tQeApaTB0TxyD3jWfVDaZ1e"]
Is the online bookseller a monopoly? A monopsony? I'll leave the details to the economists, but will concur with the New York Times columnist — and the recent New Republic story — on the company's danger. The most succinct way to phrase it may be the way Paul Krugman opens today's column: "Amazon.com, the giant online retailer, has too much power, and it uses that power in ways that hurt America."
I keep reading how great Amazon is for consumers, and don't entirely disagree. Wal-Mart sells things cheaply, too, and it's great for a while, until they start destroying small businesses in your town, putting people out of work, and hiring a few of them back without benefits or medical insurance (many of which are eventually paid by taxpayers). It's not just about getting a cheap tire, or in Amazon's case, an e-book for less than it cost the publisher, author and everyone else to produce it.
Here's Krugman again:
Meanwhile, Amazon's defenders often digress into paeans to online bookselling, which has indeed been a good thing for many Americans, or testimonials to Amazon customer service — and in case you're wondering, yes, I have Amazon Prime and use it a lot. But again, so what? The desirability of new technology, or even Amazon's effective use of that technology, is not the issue. After all, John D. Rockefeller and his associates were pretty good at the oil business, too — but Standard Oil nonetheless had too much power, and public action to curb that power was essential.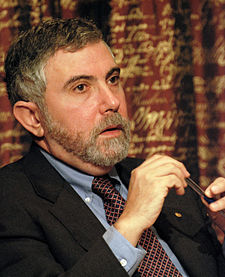 After explaining the fight with the Hachette publishers:
So can we trust Amazon not to abuse that power? The Hachette dispute has settled that question: no, we can't…. Which brings us back to the key question. Don't tell me that Amazon is giving consumers what they want, or that it has earned its position. What matters is whether it has too much power, and is abusing that power. Well, it does, and it is.
As it gets more power and wealth, why should we think Amazon won't start gouging consumers as well? At some point, we'll all be the gazelles.